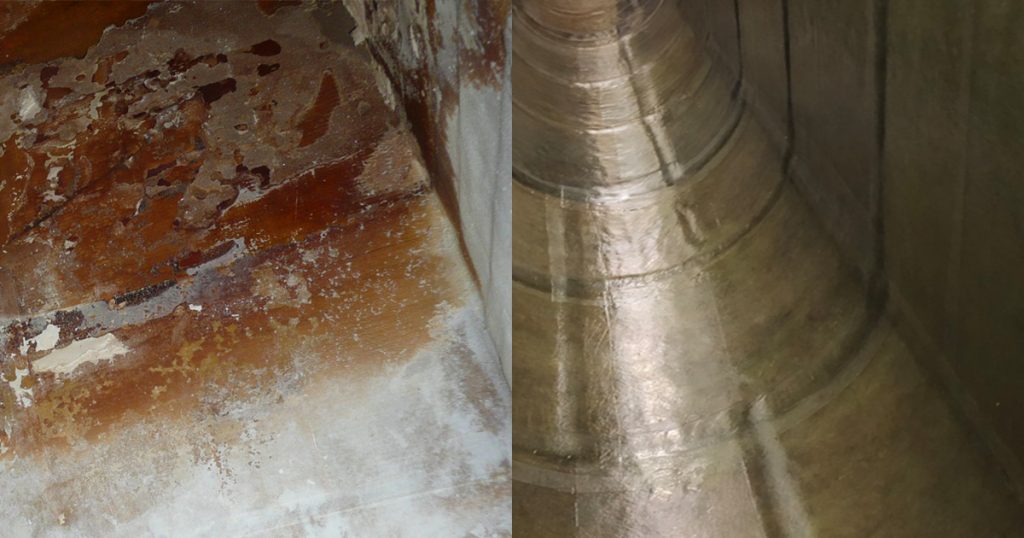 Whether you subscribe to Murphy's Law (which cynically states that when something can go wrong, it probably will) or more objective statistical analysis, you're wise to anticipate the need for FRP tank or pipe repair. According to the Fiberglass Reinforced Plastics Institute (FRPI) "industry failure analysis experts estimate that approximately a third of all fiberglass equipment in demanding service does not fulfill its initial design life without significant future investment in repair or replacement."
The reality is if you use FRP structures to store corrosive substances, at some point they will need maintenance and repair work, and not necessarily on a convenient time table for your business. The best course of action? Be prepared and be informed.
Knowing what to look for and keeping an eye on potential problems (e.g. cracks that grow or change) means you can react quickly and call an experienced contractor to fix them as soon as possible. Not only do leaks risk damage to your immediate surroundings and the environment, they may cause your production to stop, having an effect on operations up and downstream.
BE PROACTIVE
You wouldn't leave production equipment running without periodic condition monitoring or watching for telltale signs of overheating, tool wear and tear, or other looming problems. Approach tanks and pipes the same way. Check out some of our top tips on extending the useful life of your tanks and pipes here.

Another smart preventive measure is adding or replacing tank liners as necessary.

Not only do you extend the life of a sound structure, FRP tank liners are less expensive than replacing the whole tank. The lining process can be done on existing FRP, metal, or concrete tanks: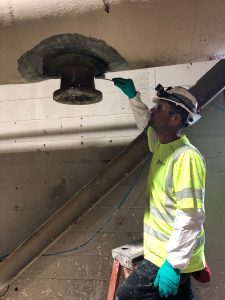 prep surface by grinding or sandblasting
clean surface of dust and debris
perform adhesion testing to ensure a good bond with the new liner
fill any gaps, minor cracks, or pits with putty (and allow to cure and then sand them smooth)
if required based on bond testing, apply primer resin and cure briefly
laminate surfaces with the fiberglass and resin system
Another way to be proactive starts when you're planning for new FRP structures. Specifying the appropriate resins and reinforcements to accomplish your storage goals means you'll end up with a tank that withstands corrosion and chemical attack from its contents. Careful site preparation further means reduced potential for damage due to settling, impact, or environmental factors. We'll discuss these considerations more in a future blog.
BE REPAIR-AWARE
While you will probably be calling in an expert for repairs, it's always good to have an idea of what they'll be looking for and what to expect from the repair process.

The more information you can provide to a repair contractor, the better work they can do. For example, if you suspect a chemical attack or damage due to corrosion, you'll want to be able to supply these details:
chemical composition and concentration of contents
operating temperatures and regular fluctuations
any trace minerals or salts that accumulate inside
tank age and construction including types of resins and reinforcement material
dates and details of any previous repairs
Your service and repair contractor should perform a thorough inspection of the inside and outside of your tank, including:

External conditions
Barcol hardness (i.e. a measure of penetration resistance and resin cure) at various liquid levels or zones of the structure
indoor or outdoor location and environmental conditions
hardware condition (bolts, lugs, flanges)
foundation and vent condition
surface damage (fiber bloom, cracks, crazing, blisters, delamination, leaks, seams)
paint or gel resin presence and condition
nozzle and other structural attachments (manways, etc.)
Internal conditions
surface appearance
presence and condition of surfacing veil
Barcol hardness at various levels
damage (cracks, crazing, discoloration, blisters, delamination, pits, or wrinkles)
nozzle and joint overlay condition
evidence of chemical attack
THE REPAIR PROCESS
Most repairs will involve taking a tank offline: draining and temporarily storing the contents elsewhere and knowing which other areas of your operations will be impacted. Have a backup plan in place before you need it, even if that one sector of your facility will be inoperable for a shift or overnight. It beats scrambling to adjust equipment and schedules at the last minute.

Most tanks are 1/2" to 3/4" thick, so it will take several layers of reinforcement material and resin to complete a repair. As a rule of thumb, the number of layers depends on volume and size of tank and also how much load pressure the liquid inside will exert.

Most repairs are made with patches of reinforcement material that are twice the dimensions of the affected area.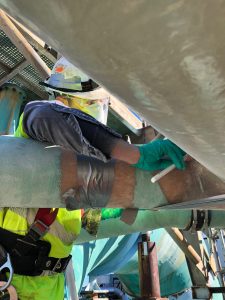 The resin and catalyst used must be mixed correctly to avoid damage due to the heat that's created as the resin sets up. It's critical to carefully roll out any bubbles in the resin right away to avoid trapping air, which can cause damage or failures in the future.
Nozzle and flange repairs should take into account load requirements. This means any pipes, gauges, or other instrumentation connected to a nozzle will exert some force on the nozzle and must be supported to avoid damage to the tank structure.
Few things are more helpful to a successful FRP repair than an informed and prepared customer. If you have questions about our repair and 24/7 emergency services or suspect a problem with your tanks, piping, linings, or other FRP equipment, please get in touch today!