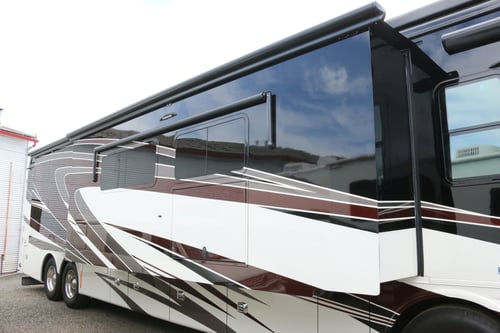 Recreational vehicles (RVs) provide a home away from home for the end-user. RV original equipment manufacturers (OEMs) are expected to provide numerous features that offer comfort for RV operators and their passengers. When parked at a campsite or RV park, an RV slide out, or slide, extends the living space inside the RV, offering extra comfort. Fabricating RV slides from fiber-reinforced polymer (FRP) materials ensures a tough, corrosion-resistant, leak-free extension that will last for the life of the RV.
How Does an RV Slide Out Work?
An RV slide is typically operated via an electric motor drive or hydraulic system.
Engaging the slide causes the side of the RV to shift outward. Internally, furniture along the slide out may extend to offer additional seating and lounge space for the RV occupants.
By design, the weight of the slide distributes evenly along the entire RV to keep the vehicle from tilting to one side. Opposing slides on each side of the RV have also become popular in recent RV designs. When the RV is on the road, the slide out retracts back into the side of the vehicle.
Complications of Traditional RV Slide Outs
A traditional RV slide (also known as the "glue and screw") is assembled by bonding and fastening multiple composite sheets together. Caulk is placed along the seams of each panel to provide a weather-tight seal. The entire slide out uses a wipe seal installed along the edges to provide further water-sealing capabilities. Since the "glue and screw" slide out has individual panels joined together, improper installation or poor panel maintenance may result in failed seals that allow water to enter the RV when it rains.
When a leak does occur, it can be difficult to find and repair out on the road. A poorly sealed slide-out will continue to allow water to penetrate the RV until it is fixed, which may damage the panels and other internal features and belongings. Mounting repair costs for the slide, furniture, and other features may be costly for RV owners.
Seamless Slides®: Benefits of FRP for RV Slide Outs
Creative Composites Group offers Seamless Slides®, a single-shell FRP slide solution that offers numerous benefits over traditional RV slides. Some of these benefits include:
A leakproof, single-shell FRP solution with no individual panels to connect and seal
No bulky trim or extruded flanges to disrupt the slide-room seals. Our full system consists of the one-piece, formed fiberglass slide-room, plus optional "topless topper®" slide-room topper, and/or the optional, pre-molded wall panels, allowing for true flush-mounted slide-rooms.
Surfaces ready for paint-prep or decals.
Manufacturable in multiple sizes for a range of RV models
A cost-effective slide, that pays for itself by mitigating seal replacement jobs and RV repairs
Corrosion and chemical-resistant material
Lower fabrication labor costs, shorter production time, and reliable inventory of raw materials
An engineered design that tailors the directional strength properties of the FRP to the application