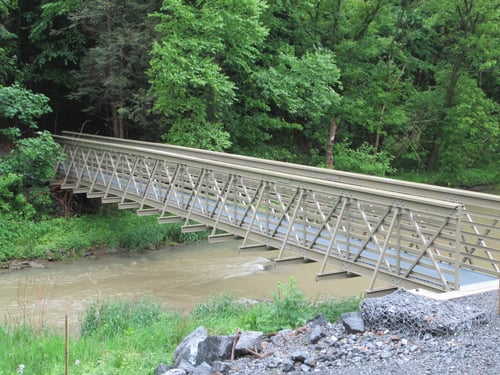 Customers are increasingly using Fiberglass Reinforced Polymer (FRP) Composite Bridges for pedestrian, equestrian, bike, trail, and any access requirements. We have the right solutions in our standard designs and custom creations from E.T. Techtonics. E.T. Techtonics, known for bridge design, joined the Creative Composites Group and continues to create high-quality FRP bridges.
Due to the nature of our FRP material, CCG's fiberglass bridges are:
low-maintenance
lightweight
reliable
sustainable
Aesthetically pleasing in natural settings, environmentally friendly, and easy to install, we often supply quality fiberglass pedestrian bridges to national, state, and local park agencies.
Perfect Fit for Remote Locations
We understand that not all trail paths are easily accessible. That's why our fiberglass trail bridges can be supplied in kits that are easy for your team to assemble. Each bridge component is lightweight and can be carried by hand to the site.
Enjoy a Straightforward Setup
CCG bridges come with detailed instructions, with labeled component pieces, grouped accordingly for your build. Many of our bridges are built by volunteers with simple hand tools. Small teams benefit from our quick and easy construction when a small span hiking trail bridge can be assembled in only a day!
Designed to be a Match
Our pedestrian bridge design team considers all the necessary requirements for building a safe and sustainable bridge to code. We work to meet bridge design standards by creating each bridge to fit span and width specifications as well as live load, wind, and snow requirements.
More Maintainable
When exposed to nature, corrosion and rot are the main cause of necessary and frequent maintenance for traditional bridges made of wood, and steel. The natural properties of our fiberglass profiles ensure your bridge will stand the test of time and be enjoyed by outdoor enthusiasts for many years.
Better for the Environment
Our fiberglass pedestrian bridges exhibit a lower carbon footprint than steel or aluminum bridges. Additionally, our fiberglass profiles are inert and will not leach any chemicals into their pristine surroundings.
Where to Start?
Let us know your FRP bridge needs, including span width and length, and we will help you create a long-lasting solution. E.T. Techtonics and CCG engineers are equipped to help you design to International Building Code (IBC) and the American Association of State Highway and Transportation Officials (ASHTO) specifications. The structural design of our fiberglass bridges is performed in house by one of our Licensed Professional Engineer and done in accordance with recognized engineering practices and principles. We design for uniform live loads, snow loads, vehicle loads, wind loads, and seismic loads.
Our team is here to go over any questions you might have about FRP bridges and to assist you with your build.