Fiber-reinforced polymer (FRP) composite materials are highly durable, lightweight materials used in many industries, including wastewater treatment, chemical processing, military, mining, architecture, agriculture, infrastructure and more. One of the biggest benefits of FRP is its versatility. It is available in many different combinations of reinforced fibers, resins, and additives, each of which offers its own unique advantages that make it suitable for different applications.
What is FRP Material?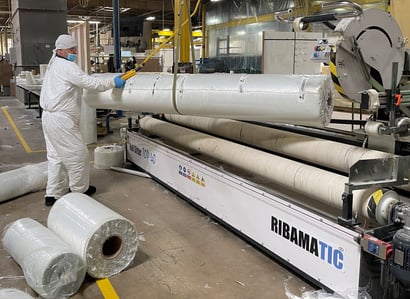 FRP refers to a polymer that has been reinforced with fibers such as glass fibers, carbon fibers, polyester fibers, and natural fibers. When these fibers are combined with resins, the composite takes on new characteristics that improve its overall functionality and quality. These characteristics include strength, stiffness, corrosion resistance, reduced thermal conductivity, electrical insulation and more.
FRP exhibits many beneficial qualities that make it a suitable alternative to more traditional construction materials such as wood, steel, concrete and aluminum. For example, it offers the same strength as steel, but at a fraction of the weight. FRP is also durable, easy to manufacture and install, affordable, flexible, low maintenance, and a great insulator. These properties make FRP a popular choice for a wide range of applications, both indoors and outdoors.
There are several ways to manufacture FRP, depending upon the finished product's size, function, and aesthetics, as well as the volume of the order. These methods include:
Pultrusion
Eco-friendly and affordable, this continuous manufacturing technique uses rollers to pull fibers through a resin bath to infuse them with polymer. The fiberglass strands then move through a heated die, which cures the resin around the fibers with a consistent cross-section.
Vacuum Infusion
Though slower than some other options, vacuum infusion is customizable and ideal for large components such as turbine blades and bridges. Dry fibers are placed into a mold and subjected to complete vacuum conditions. The liquid polymer resin is carefully added to the mold; then it cures to create a solid part.
Filament Winding
Ideal for parts that will face high operating pressures, this automated process places resin-soaked, continuous strands of fiber over a rotating cylindrical mold.
Hand Layup
As one of the original manufacturing methods for FRP, a skilled technician places the reinforcing fiber into an open mold and manually applies the resin. Though this method is fairly inexpensive, it's time-consuming and labor-intensive, making it more appropriate for samples and prototypes than for large production runs.
Types of FRP Material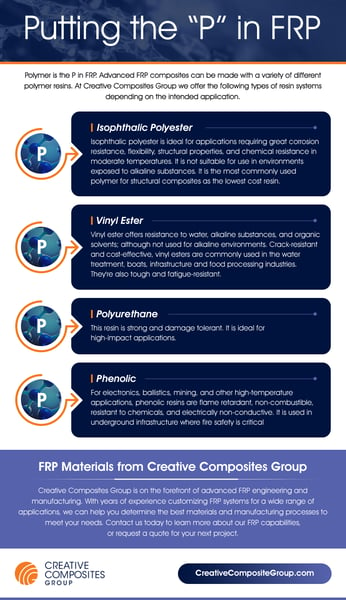 FRP can be made with a variety of different resins depending on the intended application. At Creative Composites Group, we offer the following types of resin materials:
Isophthalic Polyester. Isophthalic polyester is ideal for applications requiring great corrosion resistance, flexibility, structural properties, and chemical resistance in moderate temperatures. It is not suitable for use in environments exposed to alkaline substances. It is the most commonly used polymer for structural composites as the lowest cost resin.
Vinyl Ester. Vinyl ester offers resistance to water, alkaline substances, and organic solvents; although not used for alkaline environments. Crack-resistant and cost-effective, vinyl esters are commonly used in the water treatment, boats, infrastructure and food processing industries. They're also tough and fatigue-resistant.
Polyurethane. This resin is strong and damage tolerant. It is ideal for high-impact applications.
Phenolic. For electronics, ballistics, mining, and other high-temperature applications, phenolic resins are flame retardant, non-combustible, resistant to chemicals, and electrically non-conductive. It is used in underground infrastructure where fire safety is critical
Resin Selection
Creative Composites Group offers products using all these materials.
Pultruded profiles are made from three standard resin systems: Isophthalic Polyester, Isophthalic Polyester Fire Retardant, and Vinyl Ester Fire Retardant. Polyurethane is used in custom profiles. Vinyl esters and phenolic are used for infused products and infrastructure. Which one you choose for your project heavily depends on the service conditions of your application. Key factors to consider when selecting the appropriate resin include:
Temperature
Humidity
Chemical contact
pH levels
Corrosion risk
And more