Why Choose FRP for Fabricated Projects?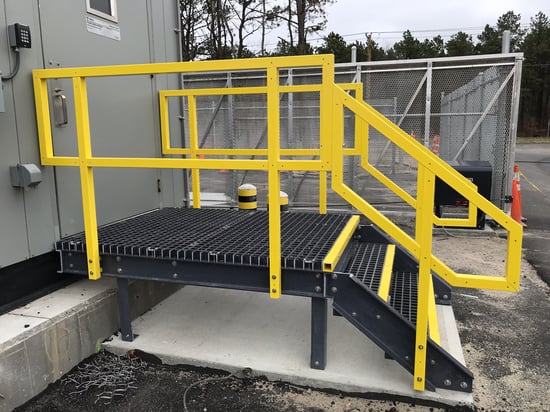 Traditionally, structural projects were completed with one of three materials: wood, steel or reinforced concrete. While these materials can meet performance and safety objectives, they are highly susceptible to damage and degradation from wear and weather, and thus not the most cost-effective choice for long-term use. In recent years, many engineers have instead turned to fiber-reinforced polymer – or, fiberglass – for their structural projects.
What is Structural FRP?
Fiber-Reinforced Polymer or FRP is a structural composite material that consists of polymer resin reinforced by fibers. The addition of fibers adds strength and stiffness to the resin, while the polymer resin supports and protects the fibers. The result is a material that is resilient, lightweight and long-lasting.
Compared to traditional structural materials, FRP offers many advantages, such as:
Lighter weight FRP is 1/4 the weight of steel and 1/10 the weight of precast concrete, which makes it easier and safer to handle and cheaper to transport. Additionally, its lighter weight means structures made from it will experience less wear and tear in relation to weight over time.
Better durability and easier maintenance FRP is highly durable. It is resistant to chemicals and weathering, which allows it to withstand long-term use in outdoor environments. While concrete structures will typically degrade within 15–20 years after installation (or less in harsh environments), FRP structures can last 75 years. This longevity means reduced maintenance requirements and costs for the latter.
Broader design flexibility FRP can be built to meet nearly any specification. It can be produced in panels of various shapes and sizes or as unique and complex components.
Shorter production and installation time FRP structures can be produced and installed much faster than precast concrete structures; the production timeline is on average 15 days shorter, and the installation timeline is on average five days shorter. These shorter timelines help shorten overall project schedules.
Greater cost-effectiveness Since FRP is durable, it carries lower maintenance, repair, and replacement costs over time. Since it is lightweight, it carries lower equipment and labor costs for installation and support. Together, these qualities make FRP a highly cost-effective material for structural applications.
Types of Fabricated Profile Structures at Creative Composites Group
CCG offers an extensive selection of FRP structural profiles that can be used to replace wood, steel and aluminum structural components. Additionally, we can design, build and deliver ready-to-install structures made from FRP.
Below, we highlight our product offerings:
Shapes (Profiles) We fabricate various standard structural profiles made from FRP, such as angles, bars, beams, channels, nuts, rods, sheets, studs, and tubes.
Ladder Systems We design FRP ladder and safety cage ladder systems for applications that require vertical climbing access.
Handrail Systems We manufacture FRP handrail and stair rail systems in a wide range of designs to accommodate different customer requirements. They are suitable for use in wastewater treatment plants, chemical processing plants, and other potentially corrosive environments.
Stairs We fabricate stair systems made from a variety of FRP profiles and parts, including grating treads. They are suitable for use in private and public facilities.
Walkways We create long-lasting fiberglass walkways that meet demanding structural requirements and withstand industrial and corrosive environments.
Flooring, Decking, Planking We provide a broad selection of FRP decking, flooring, and planking for use in various structures, such as floors, mezzanines, boardwalks, and walkways.
Panels We produce FRP panels for various structural and specialty applications, including containers, trucks, trailers, and walls.
Grating We offer Supergrate® pultruded and molded gratings, both of which are suitable for use in corrosive environments.
Industries Served
Our typical structural fabrication projects involve taking the standard pieces we have available and putting them together to make a unique, one-off design. If needed, you can order specific components by part number for repair or replacement operations. We also offer long-term supply options with production on a regular schedule to support your delivery needs. In both cases, we offer turnkey design and build solutions that help maximize the value of your products and systems.
Our fabricated FRP structures find application in a wide range of industries, including, but not limited to, the following:

Aquariums
Chemical Processing
Food Processing
Infrastructure
Manufacturing
Marine
Mass Transit
Metal Finishing
Military and Government
Mining and Refining
Oil and Gas
Pharmaceuticals
Pulp and Paper
Recreational and Leisure
Transportation
Utilities
Water and Wastewater Treatment
Contact CCG for Your Structural Fabrication Needs Today
If you have a structural project that requires standard products or a one-off solution, the FRP fabrication experts at Creative Composites Group have got you covered! As one of the leading fiberglass fabrication companies in the United States, we will manufacture all of your fabricated profiles and products to the highest quality assurance standards.
Our fulfillment process includes:
Manufacturing the parts and products
Assembling the structure
Shipping the preassembled components to your site
For procurement details, check out our Doing Business With the Creative Composites Group page. To discuss your project requirements with one of our team members, request a quote.