Composite Docks & Piers

Our products provide the basic framework for building fiberglass piers, ports, harbors, and marinas. We deliver complete system solutions that offer fast construction methods and long-lasting solutions. Composite dock and pier solutions are highly durable and have superior functionality in the marine environment.
Our composite piers and fiberglass docks also offer advantages over standard pier construction and materials. Our materials provide you with corrosion resistance to saltwater with no harmful effects on the environment! Additionally, our products tend to outperform conventional construction materials by providing better durability, high strength, and long-term cost savings.
Most importantly, the installation process of our composite dock and pier system is faster than traditional pier construction. How? The lightweight nature of composites aid in rapid construction by minimizing materials.
The use of our composite beams and composite pilings will help your pier or dock stand the test of time!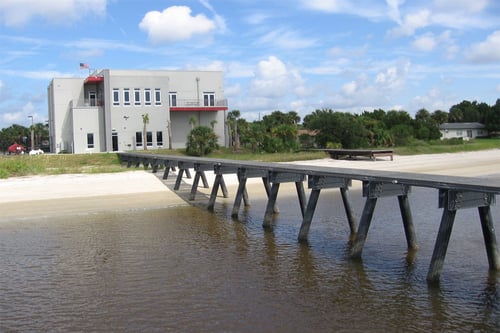 Sizing
We work within your project constraints. From a straightforward residential pier to a large commercial loading dock we can size our products appropriately.
Deck surface
We have built piers which have poured concrete decks for commercial use as well as composite panels for residential use. Depending on the load requirements and the intended use of the pier we can design with most decking materials.
Building an All Fiberglass Dock or Composite Pier
It usually takes less time to build an all fiberglass pier or dock than a traditional timber pier. Typically, a lesser quantity of pilings is needed for a fiberglass pier. In the case of a pier which will require concrete fill, there is no need for formwork as the pilings, caps, and beams all function as a stay in place form.