Joining the Kenway Family
Harbor Technologies becomes a division of Kenway Corporation
Last year the assets of Harbor Technologies were acquired by an exceptional composites engineer and manufacturer, Kenway Corporation of Augusta, Maine. Harbor Technologies has become a division of Kenway, and we're still providing all of our service and technology to existing customers and new ones. We've become a stronger ally to these customers now that we can extend Kenway's full-service offerings to them.
Kenway Corporation expanded its operations with the addition of 10,000 square feet of manufacturing space in Augusta to accommodate the Harbor Technologies acquisition. Having recently completed the world's first composite floating bridge, Kenway Corporation has progressive capabilities complemented by those of Harbor Technologies. The Harbor Technologies administrative and sales team remain in Brunswick, while their workforce is relocating to Augusta. Please get in touch with us to take a tour of our new facility.
---
A Herd of Camels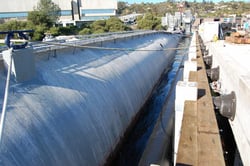 Recently we delivered 20 camels to Marathon Construction Corporation in San Diego California. The docking camels are for the rebuilt Nimitz Marine Facility Pier (MarFac), the home port and technical support center for the Scripps oceanographic research fleet.
The facility has a 110-meter finger pier and an 85-meter quay wall. Up to seven ships at a time can birth here along with their 335-foot research platform FLIP, so named because it functions in both a horizontal and vertical orientation.
---
Hitting the Road in NJ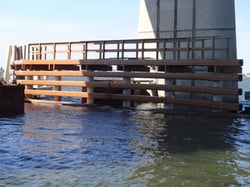 The new Route 72 Manahawkin Bay Bridge is now outfit with HarborPiles from Harbor Technologies. We supplied 16-inch diameter pilings to the Schiavone Construction Co. for the Manahawkin Bridge Fender System. The HarborPiles were up to 68 feet long!
The progressive, forward-thinking New Jersey Department of Transportation specified an all composite bridge fender system. The group understands that composite materials have a superior design life and important energy-absorbing properties. The next time you're driving down Route 72, take a look at great new HarborPiles lining the road.
---
Always Thinking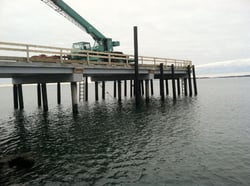 Our engineers here at Harbor Technologies have put on their thinking caps to develop an all-composite pier design. We understand how critical composites have become to pier construction, and our HarborPiles are integral in many piers around the country. To enhance the longevity and durability of piers, we've created composite beams and caps adaptable enough to allow the pier to be used in residential and commercial pier construction including boardwalks and pedestrian bridges.
Several projects are in development using our new concepts. As with all composite products, the environmental and life cycle costing benefits are exceptional over traditional pier construction. If you'd like to have a look at the new direction we're headed, please contact us for more information.