Composite Advantage was recently mentioned in an article by CompositesWorld. To read the whole article, written by Scott Francis, please visit their post.
Bridges pave the way
According to a 2019 report from the American Road and Transportation Builders Assn. (Washington, D.C., U.S.), more than 47,000 bridges in the U.S. are in poor condition and in need of immediate rehabilitation. Of the approximately 614,400 bridges in the U.S., approximately 245,000 have exceeded their estimated service life of 50 years. Couple that with the fact that legacy bridges will continue to reach states of disrepair with continued aging, and a picture of a country at the edge of an infrastructure precipice comes into focus.
New bridge projects continue to provide examples of how composites and advanced materials can help rebuild crumbling infrastructure and create new lightweight, corrosion-resistant, sustainable structures that can stand the test of time and the elements. In addition, composites allow for bridge customization, versatility and speed to market that can't always be achieved with traditional materials. Companies like Composite Advantage and AIT Bridges are working to rehabilitate existing bridges and build new ones that can exceed the lifespan of current structures.
For example, in February 2019, record-breaking low temperatures buckled the Franklin Street Bridge in Michigan City, Ind., U.S., an 87-year-old bascule bridge that uses counterweights to raise and lower its spans to provide clearance for boat traffic. Composite Advantage's fiber-reinforced polymer (FRP) FiberSPAN system was chosen for a quick, lightweight, corrosion-resistant solution to repair the bridge's crumbling concrete leaves and steel supports.
"The traditional approach called for a temporary steel plate until the weather warmed up enough to accommodate the 28-day cure requirement for concrete," Reeve says. "But that would have taken months. It also meant paying for two repairs and closing the bridge to traffic twice. The need for light weight eliminated most material options."
To fix the problem, Composite Advantage prefabricated the panels with mechanical clips for bolting the deck to the steel stringers. The FRP supplier was able to design, prefabricate, ship and install the panels in just 32 days, allowing the bridge to reopen in April 2019.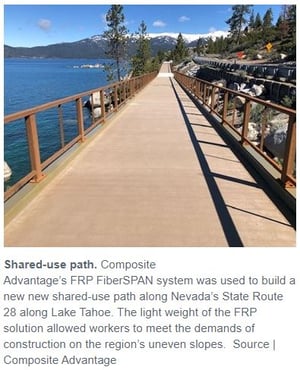 In addition to repairs, Composite Advantage works on new bridge projects as well. In June 2019, the Nevada Department of Transportation (NDOT) and the Tahoe Transportation District opened a new shared-use path manufactured using the company's FRP FiberSPAN system along Nevada's State Route 28 — a two-lane, mountainside road bordering 11 miles of Lake Tahoe's undeveloped shoreline. Thirty-two 40-foot bridge span sections were installed, creating five distinct bridges, used in areas where the slope was too steep to provide flat walking surfaces. The goal of the shared-use path is to support an anticipated increase in traffic, protect the area's ecosystem and deal with problems of limited parking and safe access points. The light weight of the FRP solution allowed workers to meet the demands of construction on the region's uneven slopes.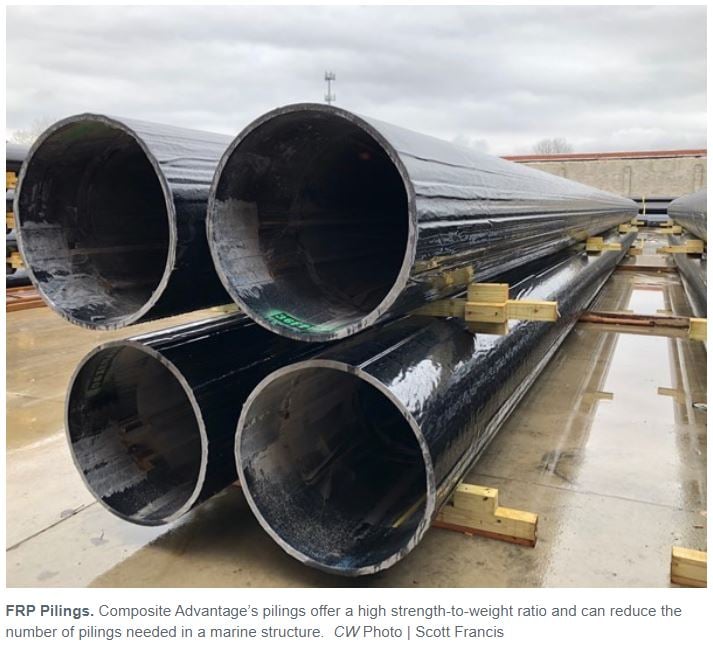 In addition to the bridge decks, Composite Advantage's offerings include composite pilings and fender systems, which have been used to rehabilitate aging waterfront infrastructure including a bridge at a seaside resort at the southern tip of New Jersey's Cape May Peninsula.
"We're able to fabricate our pilings with a high strength-to-weight ratio, which means we can make a very structurally efficient pile," Reeve says. In the Cape May Peninsula project, the company's FiberPILE FRP system was able to cut the number of piles needed for the structure in half, thereby offering cost savings. Composite Advantage met the necessary 250 kip-foot energy absorption impact load using 53 composite piles, ultimately replacing 141 original wooden piles.