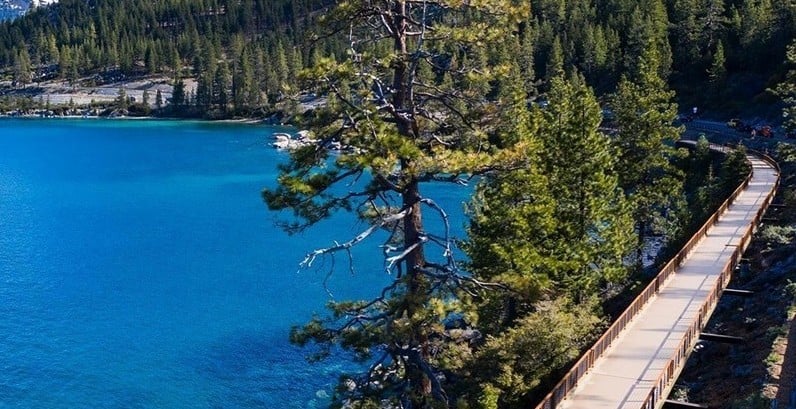 Lake Tahoe is the largest alpine lake in North America. At a surface elevation of 6,225 ft., two-thirds of the lake resides in California and one-third in the state of Nevada. Lake Tahoe is the second deepest lake and the sixth largest body of water by volume in the U.S. Its' estimated 39.75 trillion gallons are 99.9 percent pure, with visibility to 75 ft. below the surface. It could supply each person in the U.S. with 50 gallons of water per day for five years. It's easy to understand why more than 1 million visitors flock to its pristine shores each year via Nevada State Route 28. The two-lane, mountainside road borders 11 miles of undeveloped shoreline. With traffic expected to double in the next two decades, the Nevada Department of Transportation (NDOT) initiated a design/build project for a shared-use path that put FiberSPAN front and center. READ MORE>>>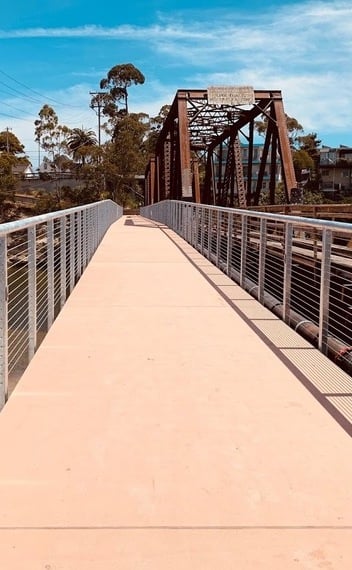 Santa Cruz Opts For FRP Cantilever Sidewalk To Improve Pedestrian Safety Alongside Train Track
An old wooden sidewalk attached to an active railroad bridge connected nearby neighborhoods to the Santa Cruz [California] boardwalk and amusement park. The narrow passage put pedestrians up close and personal with trains. To improve safety, the California Natural Resource Agency chose to update the structure with a wider, lighter fiber reinforced polymer (FRP) cantilever sidewalk. Installed in April 2019, the FRP sidewalk is 342 ft. by 10 ft. with a deck area totaling 3,420 sq. ft. Custom curved panels at the end of the sidewalk, guard rails attached to integrated curbs and a non-slip surface completed the sidewalk which was prefabricated in a rose color. Read more about this project.

National Composites Week August 26-30, 2019
The inaugural National Composite Week will be held August 26-30, 2019 to celebrate the ways composite materials and manufacturing processes contribute to the nation's landscape. The idea was conceived by A&P Technology to encourage the composites supply chain to celebrate its place in the industry. Manufacturers will bring attention to the numerous ways that composites and composite manufacturing contribute to products on land, in the air and on the water. Visit www.nationalcompositesweek.com for ideas on how you can participate.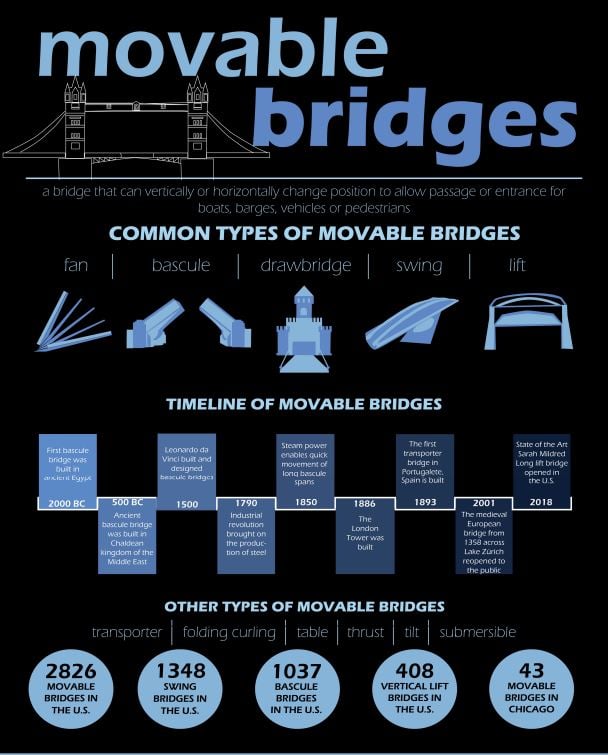 Check Out Our Newest Infographic
Our new Movable Bridges Infographic gives you a snapshot of the different types of movable bridges, a timeline of the development of these structures and what they are used for. You'll also get a short tutorial on how we have developed innovative technology to create a proven product. Download the Movable Bridges Infographic here. You can also request a copy of our Movable Bridge Deck Presentation.