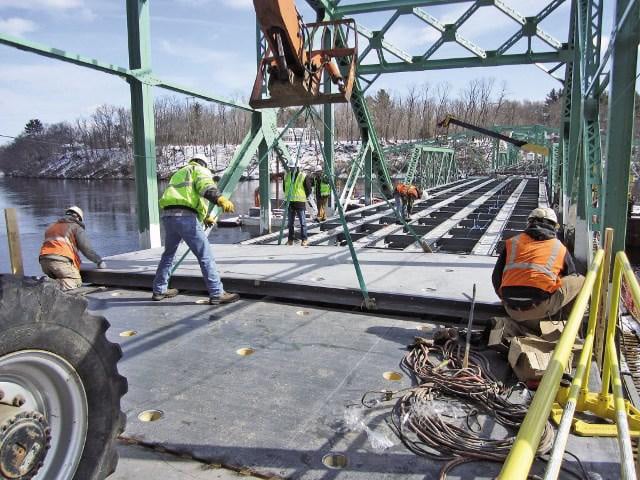 Published by Catherine Kavanaugh in Plastics News, 3/26/14. Find original article here: http://www.plasticsnews.com/article/20140326/NEWS/140329916/composite-bridges-on-a-path-to-wider-use
When the district Department of Transportation (DDOT) in Washington, D.C., needed to replace three aging bridges over the Chesapeake & Ohio Canal in Georgetown, plastic crossed the minds of engineers facing a problem.
The 110-year-old bridge over 29th Street had to have a thin deck, but be strong enough to carry 4,000 vehicles, including some semi-trucks, over the waterway that opened in 1831 to get coal, lumber and food crops to market.
The solution: Replace the concrete slab and its encased steel I-beams with a five-inch thick, fiber-reinforced polymer (FRP) deck.
"When compared to a conventional reinforced deck that would be considered thin," DDOT Project manager Mark Clabaugh said in an email. "That's an advantage of the FRP deck. It helps reduce the overall depth of the bridge superstructure."
Composite Advantage of Dayton, Ohio, provided the infusion-molded span of glass fibers held together by vinyl ester made with a base resin called Derakane 610 by Ashland Inc.
"On the immediate technical side, this bridge needed to be very low depth, low thickness," Composite Advantage owner Scott Reeve said in a telephone interview. "It's still used sometimes by tourist boats and of course water fluctuates. You couldn't make the bridge too deep because a boat might have clearance problems."
Reeve's company is one of a handful of major U.S. manufacturers of composite parts for bridge applications — from 20-foot trail bridges, which are a growing part of his business, to the largest FRP deck on a vehicle bridge in the world, which was installed last year in Massachusetts.
The 18,776-square-foot bridge deck extends 809 feet across the Merrimack River, linking the towns of Haverhill and West Newbury. Originally built in 1883, the six-span steel truss structure is the oldest moveable bridge in Massachusetts. It has a hand-operated, center swing span that moves for boat traffic.
"People don't want to tear down these historic bridges yet they can't take the weight of the new trucks," Reeve said. "So you take out the heavy concrete deck and you replace it with the lightweight fiberglass deck and now you can drive the trucks on it and everyone is happy because you still get to see the same historic view. These are the places where we are helping out now. This is where we bring a lot of value and help solve problems."
Toll on budgets
A 7-inch deep FRP deck was critical to the $13 million Massachusetts DOT project because it was strong enough to remove load restrictions for bridge users yet
lightweight enough for operating mechanical equipment.
An eight-inch thick FRP weighs 25 pounds per square foot compared to 119 pounds per square foot for the standard 9.5-inch thick concrete deck.
FRP decks can take a heavy toll on pocketbooks, however, and cost remains a barrier for many bridge owners. The price tag for the trio of rebuilt Georgetown bridges hit $6 million with the FRP deck used on 29th Street priced at almost twice the other two.
Even so, Reeve said the district will save in other areas.
"A big savings comes in not having maintenance and the fact they last longer," Reeve said. "They're going to last 75 years plus. Nothing corrodes them down. Even though we may cost twice as much, we are going to last twice as long."
Eighteen months after it was installed, Clabaugh said one of Washington D.C.'s first FRP bridges is showing no signs of wear and tear after getting a freeze-thaw workout from a brutal winter.
The ability of FRP bridges to reduce or eliminate future maintenance needs is tipping the scales in favor of composites in an increasing number of cases for county parks systems, cities, states and the Federal Highway Administration (FHWA).
Across the land
There are some 604,000 bridges in the United States and a report issued to Congress on Feb. 28 said 11.7 percent are structurally deficient because load-carrying elements are in poor condition while another 14.2 percent are functionally obsolete because they don't meet current design standards for numbers of lanes, shoulder width and guardrails.
Even though 25.9 percent of U.S. bridges have issues, the figure is an improvement over the 30.7 percent that fell into these categories in 2000.
More than 125 vehicle bridges now use composite materials for the bridge deck or superstructure, according to the Institute of Bridge Engineering at the University of Buffalo.
"The major advantage of using FRP bridges, especially in bridge concrete decks and barriers, is the non-corrosive properties of the material," FHWA spokeswoman Nancy Singer said in an email.
She also pointed to the quick construction of pre-engineered, pre-fabricated FRP bridge deck panels that arrive to a work site ready for installation by simple machinery. There's no need to wait for concrete to cure, which reduces traffic delays. Labor costs also are lower.
Still, there is another possible drawback in addition to cost.
"There is a concern over the long-term performance of fiber composite polymer when exposed to ultra violet lighting," Singer said.
FRP bridges haven't been in service for a very long time. The first composite U.S. bridge to carry public traffic was built in November 1996 in Kansas, according to the FHWA.
Making strides
Reeve said the industry has come a long way since then in terms of resins and coatings. Derakane 610 vinyl ester, which came on the market in 2011, was designed specifically for the emerging FRP infrastructure market. Not only does it have good molding properties, strength, durability and moisture resistance, it improves fire resistance and a pigment added to the resin inhibits UV degradation.
"Part of the resin's job is to protect the fibers from UV and then we put in inhibitors, which also helps, and then we do an extra coating of polyurethane on the outside," Reeve said. "So, two things are blocking UV from the fibers and that's the resin and polyurethane coating."
There's a cost to getting all those benefits out of the raw materials and the manufacturing sector still is far from achieving the economies of scale that steel and concrete have, Reeve said about FRP bridge prices.
The decks are engineered products made in managed settings that offer a lot of quality control, he added. Composite Advantage has about 50 employees producing decks using sandwich construction for its brand name FiberSpan.
External face sheet skins of fiberglass are molded with a closed cell foam core reinforced by fibers at 45-degree angles. The fibers are infused with the resin and spaced close together to form a strong web. A non-slip surface is used for pedestrian bridges.
Reeve worked in the aerospace before he started Composite Advantage in 2005. He said FRP uses in bridges is picking up, albeit slowly.
"You are dealing with public safety so that industry has to be conservative," he said. "The other thing is, it took like 30 years — from the 1880s through 1910 — before steel totally displaced wood in bridges in this country so it's going to take us some time, too. We're in the middle of the process."
A FHWA list of vehicle bridges that use FRP composite technology shows many are located in the states of West Virginia, Ohio and New York, where the use of de-icing salts caused premature deterioration.
While an FRP deck might cost twice as much for a vehicle bridge compared to conventional materials, Reeve said the price tag for pedestrian and trail bridges is only 15-20 percent more and then there are those savings down the road.
Composite Advantage is offering a new line of gray and beige trail products this year that have the strength and durability associated with FRP, as well as non-slip surfaces, and they can be custom colored. With park budgets tights, cities and counties are looking to avoid future maintenance costs.
Five Rivers MetroParks in Germantown, Ohio, got a 20-foot trail bridge to span a stream on a new trail. Installation took an hour and the single-digit temperatures didn't matter.
"The parks are building more trails and bike paths and they are getting to the point where they are tired of doing the maintenance on the wood and replacing it every so many years," Reeve said. "They are looking at the fact that even though wood is cheap when you first buy it, it does cost over time."
Reeve expects his bridge business to pick up as more trails are blazed and more historic structures need modern solutions.
"I see this as a good growth area," he said. "For certain type bridges and applications we'll become the standard."
In the meantime, he estimates that about a third of his business is FRP bridges, a third is oilfield applications and a third is waterfront infrastructure.