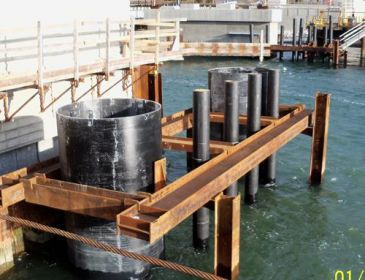 Harbor Technologies LLC (Brunswick, Maine, USA) announced in its January newsletter that it has developed what the company believes is the largest diameter composite fender piling ever made. Named MonoPiles, they are 78 inches/1,981 mm in diameter and 45 ft/13.7m long and being used to replace timber pilings that are typically clustered in groups of five to 23 smaller diameter timber pilings. The multiple wood pilings were typically driven together to absorb large amounts of energy from a vessel impact. The MonoPile manufactured by Harbor Tech will absorb the same amount of energy plus allow for rapid installation of the fender system.

Harbor Technologies says the first shipment of eight MonoPiles left the company's facility in December, headed for use at an Amtrak bridge in East Lyme, Conn., USA.

"As far as we know, this is the largest diameter composite fender piling ever constructed," says Martin Grimnes, CEO of Harbor Tech. "We've also delivered pilings more than 110 ft long. Composites are extremely versatile and there's no limit to the global opportunities available to composite manufacturers, particularly those operating here in Maine."