Certified Solution
At Kenway, we're proud to have completed our first installation of FRPI-certified tanks! As a member of the Fiber Reinforced Plastics Institute, Kenway manufactured these tanks utilizing the organization's strict FRPI guidelines. The rigorous four-step process ensures that the customer is getting exactly what's specified and — most importantly — what's paid for.

The 9-foot and 7-foot tall tanks store 15% sodium hypochlorite for use in the wastewater treatment process at the North Hudson Sewerage Authority in West New York, New Jersey. Kenway's in-house engineering group designed the tanks to solve a unique challenge: the tanks were located inside of retaining walls where buoyant forces would try to lift the empty tanks off their anchor lugs. Our solution was a balsa-cored bottom on the tanks that securely resists any buoyant forces.

This challenge gave everyone at Kenway a great opportunity to flex our mental muscles. We'd love more opportunities like this, so please let us know if you have your own engineering challenge.
---
Kenway Featured in ENR Article
Read about the Halls River Bridge project, for which we manufactured Hybrid Composite Beams (HCBs).
---
Technically and Economically Efficient
Kenway recently completed a very technical tank lining for one of our Pulp & Paper customers in the northeastern U.S.
Our customer had been performing inspections over the past several years that led them to realize they had a problem with the lining in their Chlorine Dioxide storage tank. In deciding which solution would work best in this challenge, our client evaluated a Kenway fiberglass lining against other options including replacing the tank. From both a technical and economical assessment, our lining was the best option.
The original vessel was steel, and Kenway has many years of expertise in applying fiberglass liners in vessels made of different substrates including steel, tile, brick, and concrete. Kenway expertly installed a 6-ply corrosion liner with a double veil finish, which will easily give the tank another 15+ years of good service for our customer.
---
Meeting Many Needs
Last year Kenway installed a unique culvert lining system for the Maine Department of Transportation in Mount Desert Island (MDI), Maine.
In 2009 Kenway collaborated with the University of Maine to develop a system that allows for the rehabilitation of corroded steel culverts without the excavation of the roadway passing over the pipe. When the need for a culvert lining arose in MDI, the challenges included the type of pipe degradation and the need to install aquatic wildlife passage components on top of the liners. Our system was the only one that met both needs.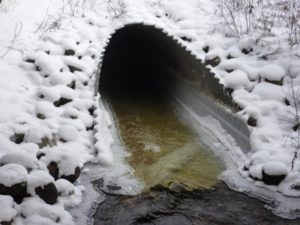 Kenway's solution had another advantage in its allowance for a minimum invert elevation increase — typically 1.5 to 2 inches total.
The system was installed in less than five days and it's expected to last more than 50 years. Many groups involved in the installation were incredibly happy with the results. The contractor finished well ahead of schedule and found the system easy to work with. Perhaps the happiest group involved was the fish, who had a new passageway up through the brook.
---
Saving the Fish
When we received an urgent call from one of our long-time Aquaculture clients, we had to act fast. There was a catastrophic failure of a critical component of their system that removes carbon dioxide from water. Without this component, their fish wouldn't survive.
The component's structural supports failed and the unit dropped into the bottom of the vessel, clearly unable to function. When our crew arrived, we discovered a lack of access for rigging to get the device back into position. We fabricated and installed new brackets, and reattached the component. Our customer was back up and running before anything harmed the fish.
Kenway receives many emergency phone calls like this one. Our customers know we respond at any time of day, any day of the year. Our top priority is to keep our customers up and running safely.