Kenway Corporation in cooperation with Miller Construction and the Vermont Department of Transportation is replacing the historic landmark floating bridge in Brookfield, Vermont, just south of the state capitol Montpelier.
The bridge, originally built in the 1800s and the only floating bridge east of the Mississippi River, has been closed since 2008 due to the disintegration of its 380 foam floats. Calculations and drawings for design, lifting and handling, fabrication, and assembly are approved, and construction of the ten individual pontoons that will float the new bridge is underway.
Fabrication of the pontoons along with pre-assembly and drilling of the raft sections will occur through July, August, and September. Each pontoon must meet an aggressive one-week start-to-finish schedule to support the overall construction schedule.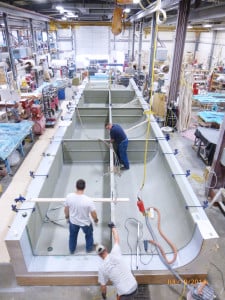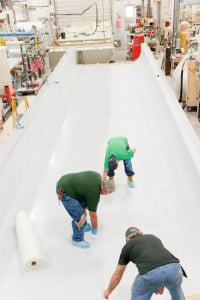 When finished, the one-lane bridge will span 350 feet across Sunset Lake.
Some of the materials that will go into the bridge construction:
78,000 pounds of glass (mat, biaxial, and double bias)
31,000 pounds of resin
14,500 ft3

flotation foam
156 steel and stainless-steel splice plates
1,022 steel and stainless-steel 7/8" diameter bolts