Kenway Corporation has completed and delivered its first four sets of Universal Composite Submarine Camels (UCSC) to the U.S. Navy.
Early this month, Kenway, one of only two approved fabricators for the UCSCs, assembled and float tested them at Front Street Shipyard in the deep-water harbor of Belfast, Maine, before loading them on a barge destined for the U.S. Naval Submarine Base New London in Groton, Connecticut.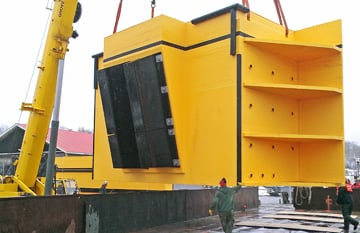 FRP Composite Submarine Camel Being Loaded onto Barge
Submarine camels are "bumpers" that prevent submarine hulls from being damaged while berthed to concrete and steel piers. The new camels are designed not only to resist corrosion for decades but also to accommodate universally all of the Navy's submarine classes.
Historically, camels have been made of steel and wood, which degrade quickly in a harsh salt-water marine environment, so maintenance and repair costs are high. The Navy looked for a solution by developing and implementing an FRP composite prototype in 2000. The prototype has held up very well over 14 years, requiring almost no maintenance, and the UCSCs based on that design are expected to last at least 25 years.
The Navy is now ready to begin replacing the old camels with the time-tested corrosion-resistant composite model. The UCSC is a 36x18x18 ft fiberglass box with rubber fenders. Its thick sandwich panels are made of reinforced foam core and glass/vinyl ester facings. Each weighs more than 100,000 pounds.
Kenway, having access to a deep-water harbor, offers the Navy a unique delivery option whereby the camels are fully assembled, ballasted, and flotation tested before delivery. Each set of two camels is transported on a barge and off loaded at its destination as a finished product, so there's no need to occupy the Navy pier for weeks.
Planned production of the standardized universal camels is underway, and Kenway expects to bid on two more sets to be fabricated in 2015.