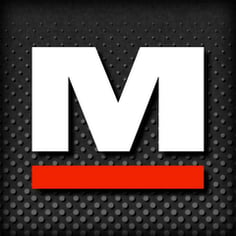 Composite sketch | Martin Grimnes tackles milestone infrastructure projects to lead Harbor Technologies to a banner year
A distinct seam delineates the two halves of Harbor Technologies' manufacturing facility in Brunswick. On one side, employees wrap fiberglass fabric around long cylinders, the beginnings of what will become pilings for an Amtrak bridge in Connecticut. But as Martin Grimnes, the company's president, passes under a threshold to the other side of the 30,000-square-foot building, the space opens up into a white-walled expanse. Components for the pilings, including composite rods stretching nearly to the far wall, lie ready for the next step of production under two towering garage doors.
This portion of the facility didn't even exist three years ago, but as Grimnes explains, "The building wasn't long enough." Harbor Technologies has for several years boasted a reputation as a leader in composite building products — its most recent successes, however, can be measured in feet. First, the company built beams for a 540-foot-long bridge under construction in Boothbay that will become the longest composite federal highway span in the world. Then there are the 103-foot-long composite pilings Harbor Technologies built for the U.S. Navy for a submarine base in Pearl Harbor, Hawaii. They were the longest of their kind ever built, until the company topped itself and built 110-foot-long composite pilings for the Port of New Orleans.
All in all, not a bad 2010. Harbor Technologies also welcomed the arrival of a pultrusion machine, a piece of equipment that can produce continuous pilings of any length, which it developed with a grant from the Maine Technology Institute. The machine, the only one of its kind in New England, is expected to triple production capacity, putting the company on track for another strong year. In 2010, Harbor Technologies saw sales jump 200% to more than $6 million. "Now, we've got to improve on that," Grimnes says.
Next steps
Martin Grimnes has been involved in Maine's composites industry since the late 1980s, when he helped create the Maine Composites Alliance, an industry group that today counts 40 members among its ranks. At the time, he was running Brunswick Technologies Inc., a company he founded in 1984 and later grew into a $44 million business. But a hostile takeover of the company in 2000 by the French multinational Saint-Gobain left Grimnes adrift. "I was floundering," he recalls, "wondering, 'What the heck should I do now?'" After the Maine Department of Transportation sought him out to develop composite docks and pilings to replace environmentally harmful pressure-treated floats, Grimnes dove back into the composites industry, founding Harbor Technologies in 2003.
That small dock-building company has since grown into a supplier of high-tech infrastructure products, though docks remain a core product. Harbor Technologies tripled its manufacturing space in 2008. "If you see opportunities on the horizon, it's hard not to address them," Grimnes says of the company's trajectory, sitting in his modest Brunswick office. A faint, chemical smell wafts through the door, a byproduct of the resin the company uses to treat its pilings, as Grimnes' black Lab, Lucy, snoozes under his desk.
The $2 million bridge project, which will incorporate 60 Harbor Technologies beams in the replacement of the aging Knickerbocker Bridge in Boothbay, has attracted worldwide attention, he says. "The beauty of the technology is it saves a ton of labor," Grimnes explains. The composite pilings are stronger, lighter and more environmentally friendly than conventional steel and concrete pilings and last three times longer, he says. "If you can have one [piling] every 100 feet instead of one every six feet, you save a ton on piling installation," offsetting his products' higher cost, Grimnes says.
That durability played a key role in the company landing the Pearl Harbor submarine base project for the Navy, which is grappling with deteriorating post-World War II facilities. Grimnes quotes a life cycle of 100 to 150 years for his products, double to triple that of conventional pilings, but they could potentially last far, far longer, he says. "With composites, we really don't know yet," he says.
Still, convincing contractors focused on the bottom line and engineers prone to conservatism to adopt new technologies remains a challenge. "It's still early in terms of the acceptance," he says of his company's composite products. To better compete, Harbor Technologies plans to launch a new demonstration project, sort of an "Erector Set" kit that would include pilings, beams and connectors as part of a simpler construction method.
Also on the horizon is ramping up the pultrusion machine to full commercial capacity by early April. Back on the production floor, Grimnes points to fiberglass threads unwinding from racks of spools behind the machine, which then travel through a resin bath and enter a heated die. Formed into a rod, the threads get a blast of sand to add grip, just one of many specifications the machine — despite having the appearance of an oversized Play-Doh Fun Factory — can address. Grimnes anticipates rebar manufactured by the pultrusion machine will compete with traditional rebar, which is coated with epoxy or galvanized at additional cost to minimize corrosion.
It's all part of a vision for the company Grimnes spells out over the sounds of manufacturing echoing through the expanded facility. Half a dozen employees note his presence, but don't appear at all surprised to see him on the production floor. He stops, watching one masked worker engrossed in a beam project. "I think one of the things I'm more proud of than anything is we have more than half of our employees enrolled in some kind of training," he says.
A skilled work force will prove instrumental in Harbor Technologies' future, as the company explores a joint venture to set up production in South Korea. Tapping into a global market for composite infrastructure projects, while maintaining its roots in Maine, seems a logical next step. "At some point, you have to consider doing it elsewhere, especially overseas," Grimnes says.