RECENT PROJECT

CUSTOM TANK
We really enjoy getting projects to build for highly specialized applications. There are always fun challenges that stretch our minds. This 24′ x 19′ discharge tank was our latest challenge.
This tank is PH-controlled to process acid from a mill, so we designed it for a PH range of 0-14. It includes internal baffles to allow for two-stage injection, and each baffle has a jet mixer. The tank also has a 250-mil corrosion barrier that includes a Nexus/C-veil surface.
The tank components were fabricated in Augusta and shipped to New York. Since the sections were too large to be transported over the road, we oblated all of the larger tank sections. The rest was fabricated component small enough to be shipped. Kenway's field services crew assembled the tank on our customer's site and installed all ancillary piping.
---
YOU'VE NEVER SEEN ANYTHING LIKE THIS BEFORE
Kenway has completed the design, manufacture, and installation of the world's only composite floating bridge.
This 255×23-foot floating span sits on Sunset Lake in Brookfield, Vermont. The bridge consists of five foam-filled fiberglass rafts that support a timber deck and walkways designed for a 12-ton vehicle. It's used by the locals for walking, driving, and even fishing.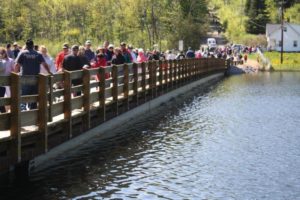 Why composites? One reason is its design life: 100 years. Over the next century, generations of Brookfield residents and visitors will be using this floating bridge to enjoy their natural water resource. The choice in composite construction also saved the lake from dredging; the bridge draws only a few feet, as opposed to reinforced concrete that would have drawn three times that. And since the rafts are made of lightweight composites, the installation equipment requirements were minimal.
The next time you're near Brookfield, please stop by and check out our accomplishment!
---
Reports From the Field
PULP & PAPER
We're gearing up for a very busy spring supporting all of our P&P customers up and down the Eastern seaboard. Our on-the-road teams are performing annual outages up and down the central and eastern United States for the pulp and paper industry. The work includes lining pulp towers and C02 storage tanks with fiberglass.

PIPING
We are fabricating and installing several FRP piping systems for bleached pulp and filtrate. One project, in particular, is a fast-track project. In less than eight weeks we've fabricated, set up and installed 1000 feet of FRP pipe, 200 elbows and more than 100 nozzles along with a number of reducers. Our team gets excited about challenging projects like this – there's nothing like a tight deadline to get us thinking up complex solutions!
CUSTOM TANKS
We're starting work on a 62-foot FRP tank cover for a high-density pulp storage tank. Corrosion is working its way through the current cover, which won't be a problem when we're done with the new composite cover. FRP will provide many years of safe, maintenance-free service.
ACROSS THE POND
Kenway had a crew visit Surry, England, to install the second round of rowing pools. With eight stations, these rowing pools simulate rowing for an entire crew team. We installed the first set three years ago. Now that our customer is adding to the building, we constructed more. Stroke!
---
Kenway Acquires Assets of Harbor Technologies LLC
Kenway has acquired the assets of the former Harbor Technologies and has extended Kenway's full-service offerings to all of Harbor Technologies' customers.
Harbor Technologies is now a division of Kenway Corporation and will continue to develop the products introduced by the former Brunswick, ME, manufacturer. These products include the composite HarborPile™, a piling ranging in diameter from 8″ to over 96″ that's used in load-bearing, guiding and fendering applications; as well as the HarborCamel™, a composite fender used for impact protection for both vessels and piers.
Kenway will expand these offerings into engineered composite systems that include the composite beams, lumber, stay-in-place forms and other components required for a complete system installation. Customers range from federal and state organizations – such as the U.S. Coast Guard, U.S. Navy, and Departments of Transportation – to commercial and private waterfront developers.