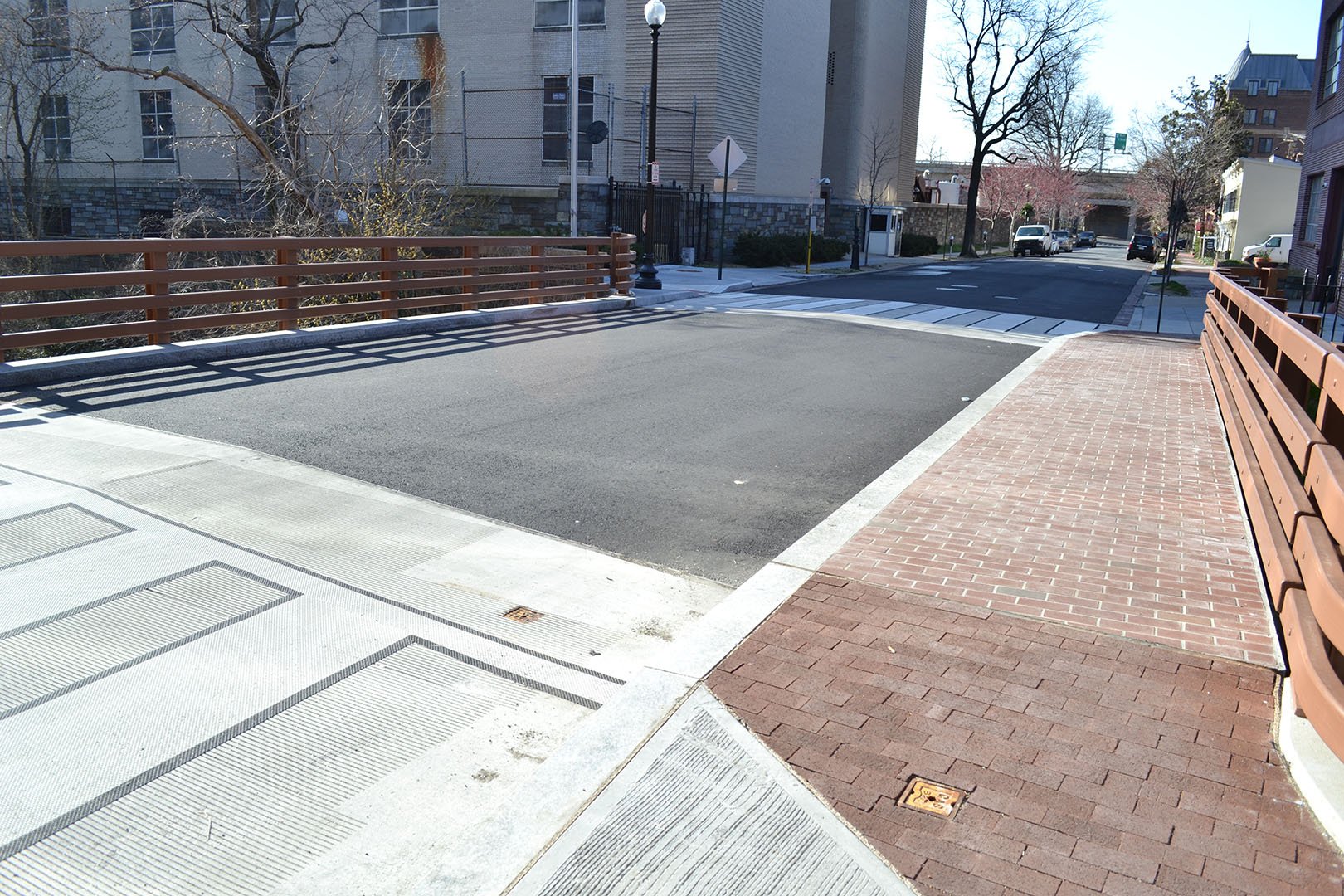 DAYTON, Ohio – (August 27, 2013) –When the District of Columbia's 29th Street Bridge needed replacing, the District Department of Transportation [Washington, DC] chose FiberSPAN™. Composite Advantage's fiber-reinforced polymer bridge deck product provided the federal district with key performance advantages it couldn't get with conventional material. The new bridge crosses the original C&O canal that runs through Georgetown, Washington D.C. and is the area's first fiberglass-reinforced vehicle bridge deck.
Crumbling reinforced concrete and exposed, rusting steel rebar coupled with a requirement to reduce dead load on old stone canal walls demanded a lighter weight bridge deck solution. The project also had to be completed in half the time normally reserved for bridge deck replacement work due to logistics challenges associated with utility lines that ran beneath the bridge and crossed over gas, water, PEPCO and telecommunications lines. Five lightweight, corrosion resistant FiberSPAN bridge deck panels were installed in just one day on a steel beam superstructure. It took only one more day to bolt the panels to shear studs welded to steel beams and add an fiberglass reinforced polymer (FRP) sidewalk.
"The DDOT and its consulting engineer evaluated several design options," says Scott Reeve, president of Composite Advantage. "This configuration was chosen because bridge depth was very restricted. The bridge had to clear tour boats using the canal but match the existing street level. Using longitudinal steel beams for high bending stiffness, we designed the FiberSPAN deck within an allowable depth of five inches and tested it to demonstrate its ability to support required truck loads."
The new FRP short span bridge, 39 feet long by 32 feet wide, has a fiberglass reinforced sidewalk panel bonded across its west side. Granite curbs are attached on the deck's edges. The bridge deck has an asphalt wear surface while pavers added to the sidewalk match its surface to adjacent walkways. The bridge helps support the canal's older stone walls and maintain their vertical position. The FRP sidewalk is a new feature CA made available to designers.
CA is a leading manufacturer of very large fiber reinforced composite parts, up to 52 feet, for structurally demanding applications and corrosive environments. Composite Advantage combines innovative design with efficient manufacturing processes to give customers products that solve technical challenges. The advanced materials company primarily serves the infrastructure and construction industries, fabricating large, complex parts that incorporate the finishing and assembly details customers need to reduce installation costs. Composite Advantage products range from vehicle and pedestrian bridges, waterfront infrastructure, and rail station platforms to high performance pads and mats.
For more information about Composite Advantage visit www.compositeadvantage.com.