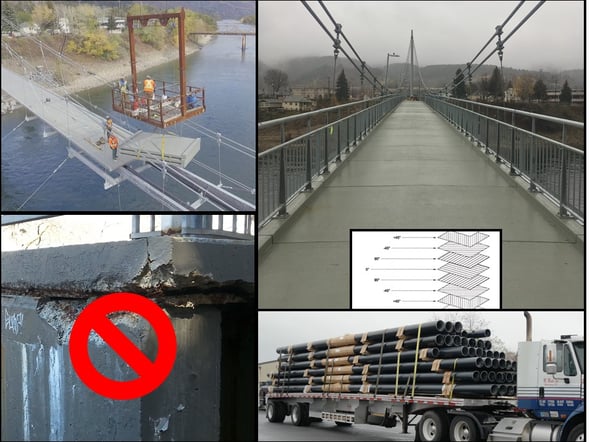 Fiber-Reinforced Polymer (FRP) composites offers five major benefits for any infrastructure project:
Faster installation time
Lightweight material
Resistance to corrosion & very little maintenance
Cost savings
Design flexibility
While traditional building materials may help achieve short-term goals, FRP is often the ideal choice for creating cost-effective structures that can stand the test of time.
Faster Installation Time
Infrastructure projects have the potential to disrupt public life, so it is vital to complete them as efficiently as possible. Prefabricated FRP components allow crews to quickly install each part more rapidly during times of lighter traffic. Many major infrastructure projects can benefit from this, including cantilever sidewalks, pedestrian bridges, and rail platforms.
Prefabricated FRP panels include an array of features that allow for rapid installation times, thus reducing the impact of construction in public areas such as railway stations. Features that may be integrated into FRP panels include:
Attachment points for equipment
Curbs
Crown or cross-slope
Rail post connection points
Rub rails
Safe non-slip overlay
Lightweight Material
FRP components are over eight times lighter than precast concrete. This means that they are significantly safer and easier to work with, cheaper to transport, and require less equipment to install or remove. This is beneficial for many common projects, such as:
Cantilever Sidewalks: With a dead load of just 4-9 psf, FRP decking can be up to 90% lighter than reinforced concrete panels. Its light weight makes it easy for engineers to install cantilever sidewalks alongside vehicle bridges without a drastic increase in dead load.
Pedestrian Bridges: Smaller superstructures and substructures help reduce geotechnical soil requirements and lower initial investment costs.
Rail Platforms: Lightweight FRP panels are very structurally durable and can handle a uniform live load of up to 150 pounds per square foot.
Movable Vehicle Bridges: Infrastructure with moving parts can benefit from lightweight decking, as this reduces strain and lowers the overall costs of the mechanical systems.
Resistance to Corrosion & Little Maintenance Requirement
The durability of FRP makes it ideal for heavy-duty usage in almost every climate. This material is highly resistant to water, salt and chemical corrosion—FRP structures can last nearly 100 years with little need for maintenance or costly rebuilds. Even structures with significant foot traffic, such as pedestrian bridges and cantilever sidewalks, can last upwards of 75 years with little maintenance when constructed with FRP materials.
Due to their corrosion resistance, these materials are also ideal for use in waterfront applications. FRP is not susceptible to insects, mold, or mildew, and it will not deteriorate in harsh weather conditions, even if it is subjected to high-energy impacts.
Rail platforms are another type of infrastructure that can greatly benefit from utilizing FRP panels. Platforms in outdoor stations will encounter harsh weather conditions, heavy foot traffic, and exposure to chemicals aimed at melting snow and ice. While this can drastically reduce the life of concrete panels, FRP panels resist corrosion for decades longer while helping to keep passengers and employees safe.
Cost Savings
High-quality FRP components from Composite Advantage are specifically built to increase profitability and long-term savings. There are a number of factors that contribute to the cost savings of FRP:
Superior durability
Low maintenance requirements
Resistance to water and chemical corrosion
Enhanced service life
Rapid and affordable installation
Versatile design capabilities
Besides always delivering long term savings, there are many projects in which the installed acquisition cost of FRP products is lower than traditional materials.
Design Flexibility
FRP is ideal for any type of job that requires customization, as it is engineered to meet exact specifications. Regardless of complexity, designers can create panels of all different sizes and shapes. This allows for aesthetic versatility, as there is a range of possible colors. It is also possible to add functional features to facilitate a smooth and easy installation process.
FiberSPAN
At Composite Advantage, one of our premier products is our FiberSPAN FRP decking for bridges and rail platforms. These products work with any superstructure configuration, incorporating every desired design feature. They are also incredibly versatile, with a range of sizes, shapes, colors, and strengths available. This decking meets or exceeds many design requirements, including:
Live loads up to 150 pounds per square foot
Deflection of less than L/500
Any type of structural support
Pipe Piles
Our pipe pilings give designers significantly more flexibility than other materials for harbors, piers and fender protection systems—they allow for a variety of wall thicknesses, levels of reinforcement, colors, shapes, and diameters. We offer SUPERPILE in standard diameters of 10 inches to 16 inches and FiberPILE from 18 inches to 60 inches. For maximum structural performance, FRP piles can be ordered in continuous lengths of up to 100 feet.
Quality FRP Materials From Composite Advantage and the Creative Composite Group
Since 1973, the Creative Composites Group companies have been leading suppliers of high performance, low cost FRP products. We base our solutions on award-winning technology, ensuring that we provide economical products that last. To learn more about the many benefits of FRP and to decide if this material is right for your project, download our eBook, FRP: Benefits, Products, and Applications for Infrastructure.