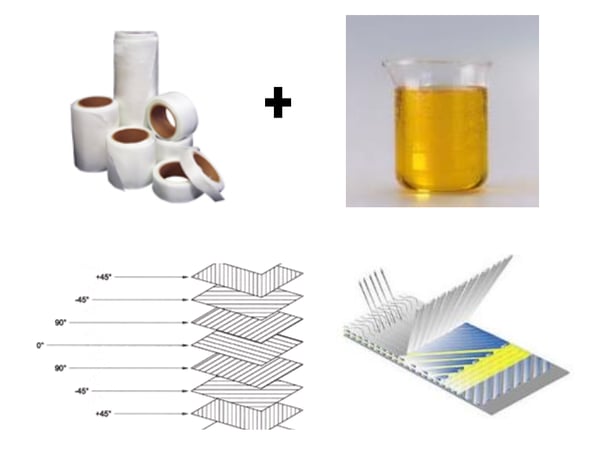 When designing an infrastructure project, there's a limited range of suitable materials. Finding the optimum material that is sturdy, wear-resistant, and safe for everyday use can be a challenge, which is why most projects settle for a default combination of reinforced concrete, steel, or wood. While these materials are cheap and widely available, a valuable alternative is more substantial and cost-effective: fiber-reinforced polymer (FRP) composites.
What Is an FRP Composite?
FRP is a combination of fibrous materials held together in a polymer matrix to create a sturdy, versatile building material. Even though it's a type of plastic, the fiber reinforcements make it stronger and less pliant. FRP can withstand substantial loads without cracking, bending, or breaking.
The polymer matrix is a critical element because it protects the fibers from water, acid, UV rays, salt, and other harmful environmental factors, allowing fibers to strengthen and stiffen the structure. The polymer makes FRP corrosion resistant, and thus a reliable, long-lasting solution for infrastructure projects.
There are many different types of FRP materials. The type of fiber or polymer used depends on the material's intended purpose. In the world of infrastructure, fiberglass is often the reinforcement of choice given its combination of high strength, stiffness and low cost. Though slightly more expensive and generally used for strengthening damaged concrete or specialty applications needing lightweight solutions, carbon fibers are durable and long-lasting.
Benefits of Using FRP for Infrastructure Projects
Even though it can be challenging for architects, builders, or contractors to transition to a new material, selecting the best materials for your project will protect your investment. To make your decision easier, here's a consolidated list of reasons to use fiber-reinforced polymer:
Long-Term Durability.

FRP is a stiff, durable surface that's resistant to environmental damage.

Corrosion Resistant. FRP can withstand exposure to acid, water, salt, and UV rays, which makes it suitable for a variety of applications and environments.
Quick Installation. FRP can be prefabricated in parallel to job site work, making it the ideal choice for time-sensitive projects. Once it's at the worksite, the lightweight nature of FRP makes it simple to install, which reduces labor costs.
Versatility. As your project inevitably evolves in scope and nature, FRP's flexibility will likely still be the best choice for whatever new circumstances emerge.
Environmentally Sustainable.Sustainability is critical, especially for large-scale infrastructure projects. FRP materials have a smaller environmental impact than steel, concrete and other products that demand significant energy and resources to produce or mine.
Potential Relevant Applications of FRP
Because of its innate resistance to corrosion, FRP works well in almost any setting. Some traditionally inhospitable environments where FRP may be the best choice include:
Food processing plants
Wastewater treatment facilities
Chemical processing plants
Mining operations
Fuel storage tanks
In addition to its corrosion resistance, FRP's high strength and lightweight makes it a reliable option for the following applications:
Work With Composite Advantage for Your FRP Needs
Composite Advantage provides innovative solutions to ensure the success of your infrastructure project. Using the optimum fiber and polymer combination, we can offer the perfect blend of materials to optimize performance.
We're proud to offer FRP as an affordable solution to some of your most complicated problems. To learn more about what Composite Advantage can do for your business, request a quote today.