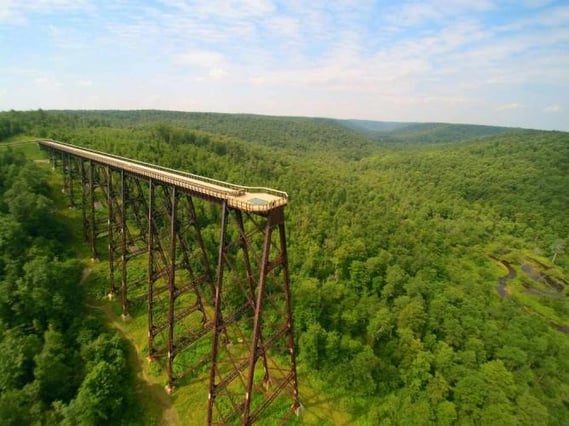 There are many unique bridges in the world today, many of which are designated as historic landmarks. Unfortunately, these celebrated structures are often subject to the whims of Mother Nature. When disaster strikes, individuals, government officials and/or conservation groups may step in to save these culturally-significant landmarks. Here's one example of how a community banded together to save the Kinzua Creek Valley Bridge.
The bridge had an interesting start. In the early 1880s, railway president General Thomas L. Kane insisted on a railroad crossing over northern Pennsylvania's Kinzua Valley. Engineer Octave Chanute decided on a wrought iron viaduct structure, and construction began in May 1881. When the bridge opened the following year, it was the longest and highest railroad structure ever built, dubbed the Eighth Wonder of the World. Unfortunately, the original structure was only in use for a decade before it became obsolete. The iron bridge just couldn't support the newer, heavier locomotives and their freight.
In 1900, the structure was strengthened using steel and lengthened to 2,100 feet. Trains crossed the steel bridge regularly until June of 1959, when rail traffic was permanently rerouted via a B&O Railroad bridge. The Kinzua Creek Bridge was destined for the salvage yard, until a group of locals advocated for its preservation. In 1963, the state of Pennsylvania purchased the land surrounding the bridge, formally establishing the Kinzua Bridge State Park and transforming its namesake into a pedestrian bridge.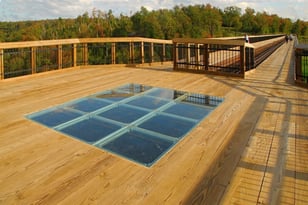 In 1977, the Kinzua Bridge was added to the National Register of Historic Places and in 1992 was honored as a National Historic Civil Engineering Landmark.
On July 21, 2003, the aforementioned disaster struck when a tornado destroyed 11 of the bridge's 20 towers. Once again, the structure was spared when the state decided to keep its remains as a tourist attraction.
In 2011, the structure was reinvented as the Kinzua Sky Walk. According to the Pennsylvania Department of Conservation and Natural Resources, "visitors can stroll 600 feet out on the remaining support towers, peer miles out into the Kinzua Gorge as well as peer down into the partial glass platform at the end of the walkway." The Kinzua Bridge is a great example of modern pedestrian bridge architecture and how it can be combined with historical structural elements to create a stunning recreational attraction.