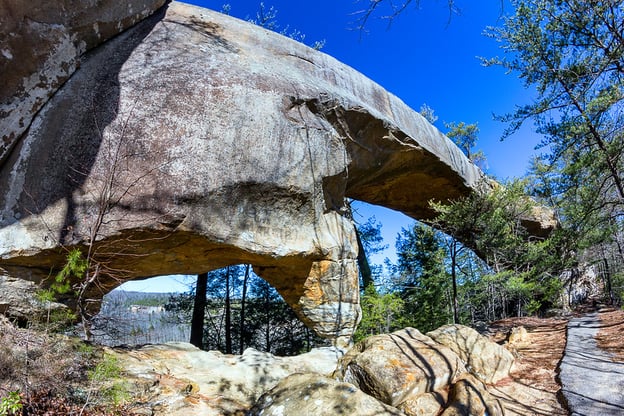 Inside Kentucky's Daniel Boone National Forest lies the Red River Gorge Geological Area. Inside this area, there are around 150 natural arches, the highest concentration of natural arches east of the Mississippi River. There's a trail within the forest called the Sky Bridge Loop Trail. This 0.9 mile trail is considered very accessible for any hikers, but the trail takes its name from a unique feature. As part of our trail bridge blog series, we'll examine this unique feature.
As hikers get about 0.2 miles into the trail, they notice a sandstone bank. This bank is actually known as the Sky Bridge. The bridge is a sandstone arch that was created after years of erosion, and still supporting hikers on a daily basis. The Sky Bridge Loop Trail takes hikers both on and below the bridge during their trek.
The Sky Bridge offers breathtaking views of the Red River Gorge and its stone structures that have been shaped for 300 million years. Hikers must use caution, however, as the bridge does not offer guardrails. In general though it's wide and flat enough to ensure a safe transport.
To see even more natural wonders, visit nearby Natural Bridge State Park. This park boasts the Natural Bridge, a sandstone bridge similar to Sky Bridge. The bridge is situated on a 0.75 mile trail on the park's grounds. There's also plenty of camping space along with a resort that visitors can enjoy.
The Sky Bridge Loop Trail is located near the Red River Gorge in Stanton, KY (about 70 miles southeast of Lexington). Natural Bridge State Park is located about 60 miles southeast of Lexington in Slade, KY. If you're in either neighborhood - stop by and cross a truly natural bridge.