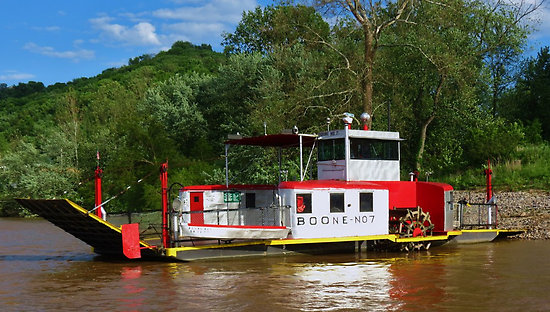 On the shores of Dry Creek in Hebron, Kentucky, you will see a boat carrying four cars across the Ohio River as the sun rises in early in the day. The ride is only a couple of bucks, and it takes just minutes to cross the Ohio River to the shores of Cincinnati. One of these ferries has the name, "Boone No. 7," painted onto its steel frame. It's the first steel ferry put into operation in the US, opening in 1937.
Though the ferries cannot carry many cars (usually between four and size cars per ferry ride), it's still an experience that Cincinnatians have enjoyed for years, 200 to be exact. 2017 marks the 200th anniversary of the opening of the ferry, and while the vehicles and people have changed, its purpose has not. Starting off as a wooden ferry whose wheels were powered by walking horses, the ferry system has grown to three steel frame boats, all powered by diesel gasoline. However, the demand for cars to cross the Ohio into Boone County, Kentucky has not wavered.
The ferry runs daily for 10-12 hours, 364 days a year, and every ride lasts around 5 minutes. Even though locals use Interstates 75, 71 and 275, which can support a much higher volume of traffic, people still want to ride the Anderson Ferry. Only three miles away from the Greater Cincinnati/Northern Kentucky International Airport, travelers see the ferry as a potentially faster route, while others enjoy the few minutes of leisure time as the ferry crosses the river.
One of Anderson Ferry's best features is its consistency. It's had the same operators for the past 50 years, as one of them bought the ferry in the 1980s. The ferryboats have lasted the same amount of time (or in the case of Boone No. 7, even longer), and the scenic surroundings haven't changed in 200 years. Though it may not be the flashiest ferry around, the Anderson Ferry certainly has the charm and passion to be a piece of living history.