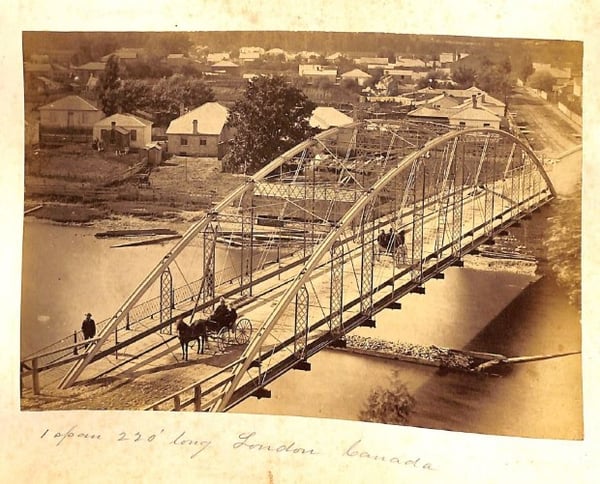 London Ontario got its start as a small garrison community in the 19th century. Today it is one of Canada's largest urban centers. The town is dotted with reminders of its heritage including Blackfriars Bridge—Ontario's oldest working crossing. The bridge spans the north branch of the Thames River, connecting Ridout and Blackfriars Streets. It is also the longest working span [216 ft. long] of its kind in North America. The 140-year-old structure was designated as a National Historic Civil Engineering Site by the Canadian Society for Civil Engineering in 1992.
Seasonal flooding destroyed a series of fixed, wooden structures built as early as 1831. Blackfriars was designed and constructed in 1875 for $14,711 by Wrought Iron Bridge Co., based in Canton, Ohio. Ohio is also home to the supplier that provided BlackFriars with a new deck fabricated from fiber reinforced polymer (FRP) composites more than a century later. (Don't miss Part Two of this blog where we will talk about Blackfriars' 21st century solution to aging).
But for 18th century builders, Blackfriars' "live load" was little more than a horse and wagon. The Wrought Iron Bridge Co., used a bowstring arch-truss design which made economic use of materials but provided an aesthetically pleasing appearance. Wrought iron was frequently used at the time and considered a garden variety material. Today, there are only two other bridge structures in Ontario made predominately of wrought iron. Bowstring arch-truss bridges are also few and far between because they are limited in the amount of weight they can carry.
Vehicle traffic followed horse-drawn conveyances in the 1900s, but the "Tin Lizzie" was much lighter than its modern counterparts. Over time the bridge underwent various modifications to shore up its maturing skeleton. The last major overhaul to the bridge was completed in 1950. In 2013, the City of London inspected and evaluated bridge condition and performance. The crossing was restricted to pedestrian and cyclist-only use while temporary repairs were completed. Faced with more extensive restoration work, the city launched a $7.9 million project to remove, dismantle and rebuild Blackfriars Bridge off-site.
The bridge was lifted from its granite abutments in November 2017, cut at mid-span and taken to the banks of the Thames River. Crews spent the winter rehabilitating and strengthening the pieces at contractor McLean-Taylor Construction's yard north of London. The goal was to preserve as many of the original components as possible such as the structure's arches, lattice work and pedestrian railing.
Extensive bicycle and walking paths framed by second growth trees create the perfect setting for Blackfriars. Against that backdrop the bridge's bowstring design gives it the appearance of floating.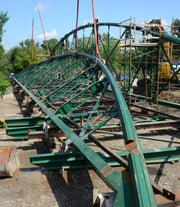 Photo Credit: MJ Idzerda
South Arch being tilted upright.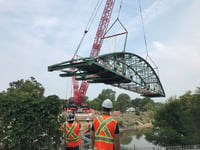 Photo Credit: MJ Idzerda
The frame of Blackfriars Bridge being lifted back into place across the Thames River.
The bridge was reassembled on-site in August 2018. FRP was chosen for the deck because the historic structure could not tolerate the dead load of a concrete deck combined with current traffic loads. Design firm Dillon Consulting [based in London, Ontario] selected Composite Advantage's FiberSPAN lightweight decking after studying two other FiberSPAN bridge decks on the Minto bridges in Ottawa. FRP bridge panels have been shipped to the bridge site and installation will take place this month. Stay tuned to find out how advanced FRP panels were incorporated with preservation efforts to maintain Blackfriars' authenticity and the beauty of its original design.