I recently attended the Southeast Bridge Preservation Partnership in San Antonio, Texas along with bridge owners and industry members from the southeastern US. The organization defines bridge preservation as
"actions or strategies that prevent, delay or reduce deterioration of bridges or bridge elements, restore the function of existing bridges, keep bridges in good condition and extend their life."
It's also an ideal opportunity for manufacturers like us to meet face-to-face with bridge owners. We love to hear about the types of day-to-day maintenance and operational challenges bridge owners encounter. This information is instrumental in helping us evaluate how products can be used to ease bridge owners' pain points and how products must evolve to do a better job of preserving bridges.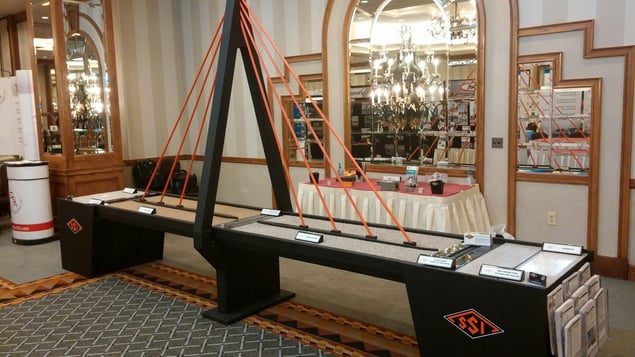 SSI Highway Materials exhibit booth - my favorite at the Bridge Preservation Partnership.
As a supplier of FRP decking, I found the meeting to be a learning experience as well as a chance to promote the benefits of FRP infrastructure products. It's equally important to understand the owner's perspective. When it comes to the long-term operation and maintenance of bridge decks, owners look at three items:
structural deck
the surface that the user will experience
the joints between bridge elements
FRP decking has a very long life and requires no maintenance. The polymer concrete overlays deliver a long-lasting surface. The only maintenance item is the joints between panels and at the end of bridge spans. Meeting consensus was that joints are the number two maintenance issue for owners. Since the joint suppliers are well represented, I get to see which products are most applicable to use with FRP decking. Any meeting in which we all learn something is a good event.