Creative Composites Group (CCG) has helped to spearhead the adoption of Fiber Reinforced Polymer (FRP) for applications across the board. These pioneering inroads have established CCG as an innovation leader in infrastructure applications. Composite materials' corrosion resistance, lightweight, superior strength, longer lifespan and reduced maintenance make them an attractive option when compared to conventional choices.
Helping To Educate The Industry
Creative Composites Group Participates In Videocast With Four Speakers
To further expand the use of FRP composites, CCG will participate in the American Composites Manufacturers Association's (ACMA) virtual Construction/Infrastructure Composites Technology Days. Each Tuesday in March will feature a different area of the market where composites are making a positive impact.
Videocast topics are:
March 7: Transportation Infrastructure
March 14: Water Infrastructure, and Corrosion-Resistance
March 21: Buildings
March 28: Durability, Resiliency, Decarbonization, and Specifications

CCG experts will discuss a range of topics on March 7 and 28.
Reshaping Infrastructure
Scott Reeve, business development for CCG will discuss "Lightweight, Prefabricated Cantilever Sidewalks for Shared Use Paths on Vehicle Bridges" on Tuesday, March 7 at 1:10 p.m.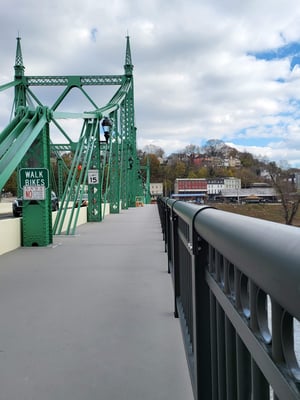 Prefabricated, lightweight FRP structural sidewalks can be quickly installed on a vehicle bridge to create shared-use paths for commuting and recreation. Attendees will get a firsthand look at a large FRP cantilever sidewalk. The composite structure was installed as part of a Department of Transportation (DOT) vehicle bridge rehabilitation project for the Northampton Bridge which spans the Delaware River, connecting Easton, Pennsylvania and Phillipsburg, New Jersey. The 10 ½ ft.-wide sidewalk totals 1,100 ft. in length and covers three bridge spans. Participants will get the opportunity to step through calculations, drawings, requirements, decking and support structure layout, panel details and features, connections, and the material design property process.
Durability And Resiliency
FRP composites can withstand natural disasters and extreme events. Case studies covering utility poles, seawalls, coastal applications, and flood and earthquake-resistant structures will explore how FRP is making products safer and more resilient.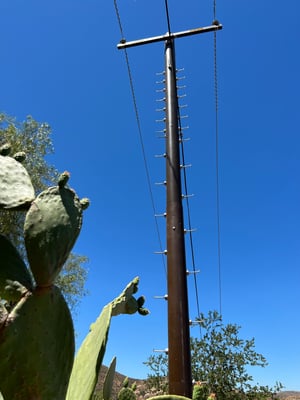 Dustin Troutman, director of marketing and product development for CCG will talk about "Resiliency - Today's Electric Grid and Future Demands" on Tuesday, March 28 at 12:05 p.m.
Americans rely more on communication and electricity than at any other time in history. Driven by current and future demand, electricity and communication providers are being tasked to rebuild aging infrastructure and expand services. For example, the growing production of electric vehicles to reduce carbon dioxide emissions and efforts to adopt a modernized 5G network are forcing utilities to engineer and build resilient systems. Participants will be introduced to the significant role FRP poles are playing in helping support and maintain a resilient power grid.
Corrosion Resistant Coastal Water Infrastructure
Corey Sechler, sales manager of waterfront solutions for CCG, will present "Resilient Coastal Infrastructure Using FRP Composites" on Tuesday, March 28 at 12:50 p.m.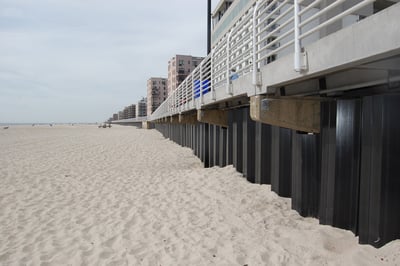 Waterfront infrastructure has to withstand weather events while maintaining operational functions. In some cases, waterfront infrastructure is called on to protect other structures and assets as well. FRP composites have become a leading technology for resilient infrastructure that can protect coastal communities, ports, waterways, bridges and naval bases. FRP composites are corrosion resistant, have superior strength and energy absorption, design flexibility and are lightweight for installation and mobilization. Existing applications include storm walls, cut-off walls, bulkheads, wave breaks and fendering protection systems. Attendees will be introduced to the FRP technology behind a 2 ½-mile-long boardwalk wall installed in Long Beach, New York after Superstorm Sandy. Other products under development, such as floating breakwaters, wave attenuators, movable surge walls and locks and dam renovations will be featured as well.
Navigating FRP Specifications
Gregg Blaszak, president of Coastline Composites, will discuss "Creating Specifications for FRP Projects" on Tuesday, March 28 at 2:20 p.m.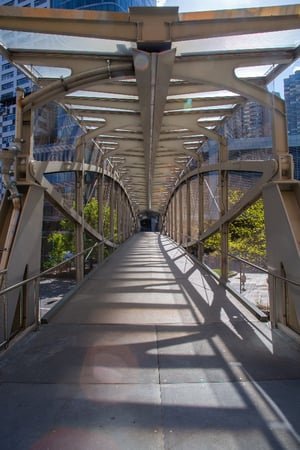 Attendees will learn how to specify requirements for the design/use of FRP products in a heavy civil/infrastructure project. Different types of FRP products are being sold to the construction market including strengthening systems, rebar, bridge decks, piling and rail platforms. Because each product is unique in terms of material composition, manufacturing and installation methods, it's impossible to create a single specification for every type of FRP. However, there are a number of general considerations when it comes to preparing specifications that are common to all types of FRP. In this session, attendees will learn the basics of writing a specification using FRP bridge decks and commuter rail platforms as examples.
ACMA's Construction/Infrastructure Composites Technology Days offers a unique opportunity to learn more about FRP and network with other individuals. Register today!