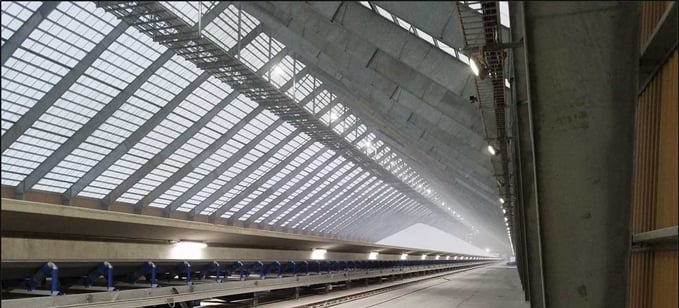 Hill & Smith PLC observes an annual ESG Week. Creative Composites Group is proud to contribute to overarching sustainability goals. This blog post is adapted from this Enduro case study.
A building is only as durable as the roof over its head. Permanent buildings typically outlive traditional roofing materials over their 40-year life. But reconstructing a roof requires additional time and material costs and can result in costly downtime. And after completion, a solid roof will often require significant energy to light the space within.
The United States Army Corps of Engineers® found Fiber Reinforced Polymer (sometimes called fiberglass-reinforced plastic, or FRP) has the highest return on investment (ROI) among competing corrosion-resistant materials and brings the added benefit of a smaller environmental footprint.
Earning Department of Defense Approval
The U.S. Army Corp of Engineers conducted a study for the Department of Defense, "Demonstration of Three Corrosion-Resistant Sustainable Roofing Systems." In it, they evaluated how much new roofing system technologies can close the lifecycle gap between buildings and roofing systems.
This study proved that FRP industrial roofing provided the highest ROI – specifically an FRP roofing system with translucent panels that saves on energy costs. The Army Corps used TuffSpan™ by Enduro for its tests and found that TuffSpan provides a well-lit work area, eliminating the need for additional lighting. The FRP roofing system also provided a cooler working environment in the summer and was warmer in winter. The additional UV coating protected against color fading and degradation from sun exposure. The demonstration showed that an "FRP panel roof can provide significant benefits, including better indoor lighting, improved thermal comfort, and lower energy bills when used on buildings such as craft shops, warehouses, and industrial facilities."
Upon completion, the study rated the FRP panel system, Enduro's TuffSpan, as the best roofing material tested when energy savings, sustainability and corrosion resistance are required.
Testimonial from the Army Corps' report, on the ESG-friendly qualities of TuffSpan, includes:
"This analysis assumes that the FRP system will save costs related to reduced interior lighting requirements resulting from daylighting through the translucent roofing material. Each building has nine fluorescent light fixtures with two 40-watt tubes each. Without the FRP panel roof, it is assumed that the lights are turned on during 75% of working hours throughout the year. Accounting for typical amounts of overcast, cloudy, and rainy weather, it is estimated that with the FRP panel roofs the lights will be turned on about 25% of the time. Assuming an electricity cost of $0.082 per kWh, the annual energy savings would be $59 per building."


"Fort Bragg personnel have remarked that the buildings' interior temperatures are more comfortable than previously when the metal roofs were in place and that the new interior daylighting effect has improved working conditions. To estimate the potential benefit of increased productivity, a quarter man-hour per day is assumed for each building with an FRP panel roofing system. For a fully burdened labor rate of $35/hour and a 200-day year, the annual savings is $1,750."
TuffSpan Roofing Helps Achieve ESG Goals
Designed for environments with continuous exposure to acids, greatly reducing corrosion concerns and future maintenance costs, TuffSpan panels are offered in a wide range of opaque and translucent colors with premium UV inhibitors and shop-applied acrylic polymer UV-resistant coating. Translucent white panels provide an aesthetically pleasing appearance while increasing natural light in the building.
Investing in the right industrial roofing materials yields significant long-term savings and a positive environmental impact. The Enduro team will work with you to ensure your roofing system design system is optimized to perform best for your building's design criteria. To discuss TuffSpan for your project, email us at sales@endurocomposites.com.