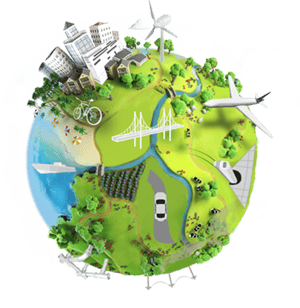 Many architecture and infrastructure designers are switching from concrete, wood, or metal architecture to fiber-reinforced polymer (FRP) composites in their structures. This versatile engineered material resists corrosion and weathering and incurs very little maintenance costs over time. FRP excels in a wide range of applications.
For these reasons and more, builders and managers working with bridges to buildings to pipelines chose to incorporate FRP composites into new or retrofit projects.
In this post, we explore some of the best reasons to use FRP in your next construction project.
Advantages of FRP Composites
FRP offers several key benefits for civil engineering projects:
High durability. FRP surfaces resist mold, weathering, and external threats better than other materials. The strong bonds that make up the polymer-based material ensure that external threats have little chance of permanently affecting it. The polymer base and its exterior gel coats protect the strong fiber reinforcements from water, salt, chemicals, and UV radiation. Additionally, FRP can withstand heavy impacts and abrasion, while its flexible nature allows it to bend and bounce back without breaking.
Lightweight. FRP has a high strength-to-weight ratio: it is as strong as steel, but only 25 percent of the weight. This makes it easy to maneuver and install. FRP can also be installed over concrete or metal substructures with ease.
Exceptional corrosion resistance. In addition to a durable polymer base, FRP structures are coated with resins that prevent degradation due to chemical, salt, and water exposure over time.
Prefabricated structural elements. FRP composites typically come in lightweight, flexible panels that are prefabricated in the factory and easy to install at the construction site. FRP panels usually only need a few fasteners or just adhesive bonding to remain in place throughout their service life.
Cost effective manufacturing. FRP is fabricated with processes that make it competitive with traditional materials while still offering all these advantages. For this reason, FRP is a good choice for retrofitting structures or creating new ones in shapes and sizes that were not previously possible.
Long-term Solutions for Engineering Applications
FRP's structural properties, durability, and light weight offer designers the flexibility to build free-form, innovative structures. For example, construction companies can build lighter bridge decks using FRP composites. This enables them to pursue more daring designs without overburdening the bridge's support structure.
Additionally, waterway managers can use FRP to build new dolphin pilings, which perform much better in saltwater environments than traditional wood-based pilings.
Switching to FRP creates a positive "snowball effect" by reducing the cost of bearings, transportation, foundations, maintenance, lifting equipment, and much more. Because of these benefits, companies stand to save significant money while building efficient, aesthetically pleasing structures.
Savings also comes from the long lifespan of FRP structures. In addition to built-in durability and extremely low maintenance requirements, these structures can be easily repaired or restored in the field. Structural elements can be patched, relined, recoated, and made to meet or exceed OEM specs.
Look for an FRP vendor with trained FRP technicians available for emergency and planned repairs. They should thoroughly inspect the interior and exterior components to assess damage including cracks, crazing, discoloration, blisters, delamination, etc. Peripheral equipment such as bolts, lugs, vents, or nozzles, should also be assessed and replaced if needed.
Learn More About Our FRP Solutions
FRP composites are strong, flexible, durable, and last longer than many other construction materials. They save money up front and over time, as this material is very easy to work with and resists damage from operations and the environment.
Creative Composites Group offers a full range of FRP manufacturing and design services. We also provide planned and 24/7 emergency field service. If you would like to learn more about FRP for your next infrastructure project, contact us today! Or be sure to request a quote to learn about how we can help you.