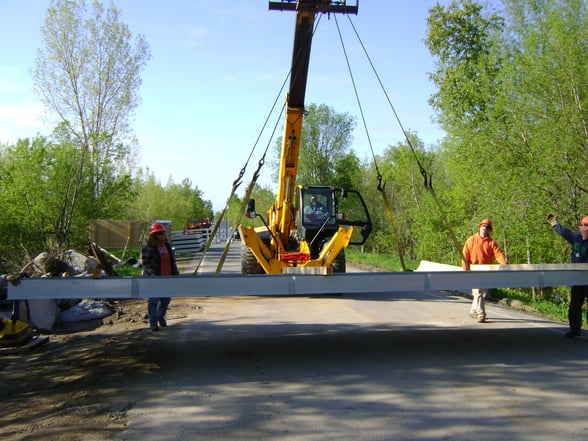 Given the demanding structural loads of the bridges and rail platforms where Composite Advantage's fiber-reinforced polymer (FRP) FiberSPAN™ deck panels are used, our decking is engineered to meet specific requirements suited to each individual application and large-scale construction project. Since our production shop prefabricates this fiberglass decking, we provide a faster, easier, and lower-cost installation than other material options like concrete, wood or steel pan. We ship panels directly to the job site and pay special attention to seemingly small details that simplify unloading and transport. For example, all our FRP deck panels have unique identifiers on the edges that help streamline unloading and installation.
The FRP bridge panels arrive on a flatbed truck, and contractors usually unload the panels using a crane with slings or a forklift truck. Composite Advantage also provides an onsite technical representative to guide contractors through the installation process.
Our onsite customer support, strategic packaging, and simplified ordering and installation allow contractors to easily and quickly install a new deck. Read on to explore additional information about how to install our products and why you should partner with Composite Advantage.
How to Install FRP Decking
Our expert engineers have simplified FRP composite decking installation into just seven simple steps—a much faster process than those involving the use of alternative material like concrete or wood.
Clean: First wipe the panel mating ends (short sides) with a cloth saturated with isopropyl alcohol. The alcohol solution removes any contaminants at the joint seals, which are easier to clean before the panels are installed.
Position: After cleaning, position the panels according to their specific orientation requirements. The IDs and weight are printed on the panel ends to clarify where pieces should go.
Place: Hard stops control the joints between the mated panels, so panels must be positioned correctly in relation to each other. Place shims on the previous panel to set the joint gap. Then, lower the next panel vertically as close as possible to the first panel. Once the board is lowered, move it horizontally toward the shims.
Align: We recommend panel-to-panel alignment. To create uniformity, mark the centers of the panel-to-panel joints on the supporting structure. These marks will serve as visual guidelines for the contractor.
Space:Make sure panels are evenly spaced while adjusting the panel-to-panel joints as necessary. We generally recommend spacing longer panels (> 24 feet) about 3/4" apart at 68°F; shorter panels are at 3/8" joint gap
Connect: Secure the panels to the superstructure by installing panel connection clips. Clips are quickly installed from underneath by bolting into holes that were drill and tapped in the shop. It is crucial to install the connection clips before tackling other construction work on the deck, as the panels will not completely stabilize until the clips are in place. If you plan to drive small equipment over the deck, you must install the panel clips first.
Seal: Finish the FRP deck installation by inserting joint seals between the panels to prevent water intrusion on support structure underneath.
Benefits of Installing FRP Decking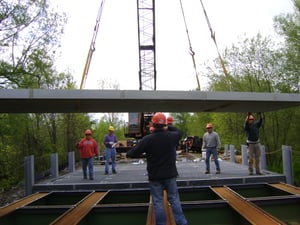 FiberSPAN™ decking is a superior solution compared to many traditional materials and offers the following benefits:
Time: Composite deck panels are faster to install compared to other materials. Our FiberSPAN™ panels typically take 20–30 minutes to unload, move into position, and install.
Durability: FRP surfaces are designed to resist wear due to corrosive and abrasive influences. The surface can even withstand power-washers, petroleum-based chemicals and snow removal equipment. A non-slip overlay and exterior coating also have built-in UV- and weather-resistance to ensure long-lasting support.
Maintenance: FRP has a substantially longer operational life compared to standard reinforced concrete bridges because it can withstand exposure to chemicals and harsh weather. The lifespan of a reinforced concrete deck is as short as 15–20 years, whereas an FRP deck is expected to last roughly 75 years without repair.
Cost: When you consider both labor and material expenses, FRP decks are more cost-effective in the long run than other decking materials. FRP"s durability and low-maintenance design can save your business time and money for the duration of its lifespan.
Composite Advantage Decking Solutions
Composite Advantage is here to meet all your decking requirements. Check out some of our case studies to see how we have provided quality FRP decking solutions for a wide range of projects.
For the full installation process with photos guiding you through each step, download our general installation guide.
When you need a skillful team of composite decking experts, you can trust the Composite Advantage engineers and technicians to find the best solution for your large-scale construction project.