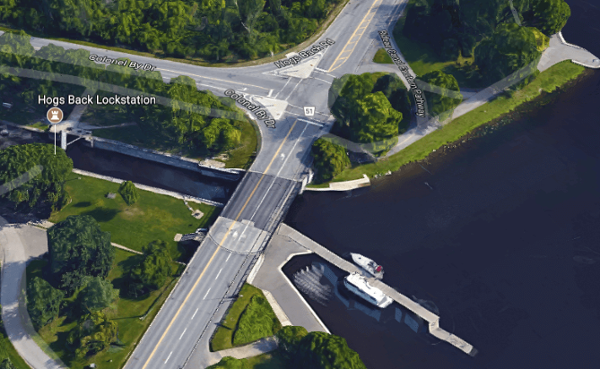 Image courtesy of Google Maps
The Rideau Canal is the oldest continuously operated canal in North America. Historians will tell you that if you are lucky enough to travel the waterway, you'll see living history. Only 10 percent of the canal is man-made. The waterway combines canals, rivers and lakes, making it a blend of urban, rural and natural landscapes. Most of the locks are still operated by hand with the same mechanisms used in 1832 when the canal opened. The waterway is 126 miles long and connects Canada's capital city of Ottawa to Lake Ontario and the Saint Lawrence River at Kingston, Ontario.
Hogs Back Bridge—an unequal arm swing bridge—is an integral crossing that ferries pedestrians, bicycles and vehicles across the Rideau Canal. Vehicle traffic alone accounts for approximately 26,000 cars per day. Hogs Back's swing bridge operates from mid-May to mid-October and may open up to 20 times a day during the area's peak season to allow boats exceeding heights of 9 ft. to pass.
Conventional swing bridge designs require two people to operate because of a rim bearing and offset pivot swing. The Hogs Back bridge design has a main post in compression over the pivot beam of the swing span to support truss arms which extend to both ends of the swing span. This keeps the span's extremities from sagging when the span is opened.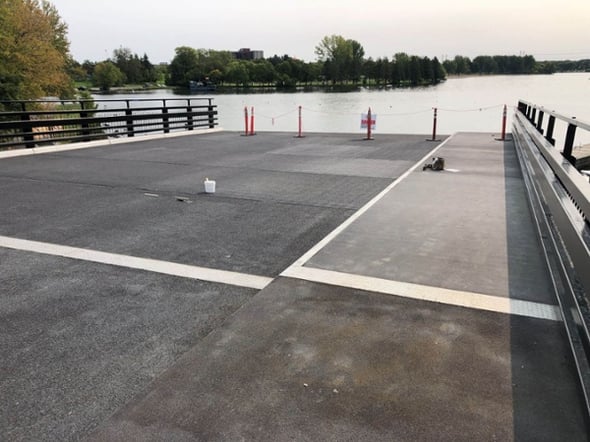 The National Capital Commission (NCC) announced plans in 2019 to launch a rehabilitation project for Hogs Back. The commission had identified a number of end-of-life components in the structure. The project also called for installation of a solid surface bridge deck and refurbishment of the swing mechanism.
Original steel grating exposed the swing mechanism to snow and deicing chemicals. Corrosion dictated a solid deck, but the bridge's swing function could not tolerate the additional weight it would add. Fiber reinforced polymer (FRP) was the only material option capable of delivering a deck able to meet the NCC's requirements.
The bridge owner, the NCC and the project's design engineer were familiar with FRP because of previous experience with FiberSPAN deck products on Ontario's Minto East Bridge and Minto Centre Bridge.
FRP's design flexibility accommodated complex geometry, multiple curvatures and a significant amount of internal steel for attachments. Six composite panels were prefabricated; each one tailored to custom specifications. Other special features included an FRP sidewalk on one side of the bridge deck and a curb fitted with steel armor on the other side to accommodate snow plows.
The deck was installed during the months of June and July 2020 and required multiple steps. Panels were laid in with the bridge's swing arm open. The bridge was then closed to ensure proper deck and steel superstructure fit-up. Panels were removed to lock in the steel configuration and then the deck was reset for permanent installation. This step was completed with the bridge's swing arm open to permit boats to pass. The FRP bridge deck's length totaled 61.4 ft. with a width of 35 ft. The overall project is expected to be finished in October 2020.
For nearly 20 years, we've produced FRP decking for all types of bridges. The strong as steel, lighter than concrete material is especially suited for movable bridges including drawbridges, bascule and lift bridges. Corrosion resistance, high safety ratings, minimal maintenance and reduced strain on other systems are just a few of the advantages.
Do you own a movable bridge that needs restoration or rehabilitation? Give us a call. We'd love to talk with you about your project.