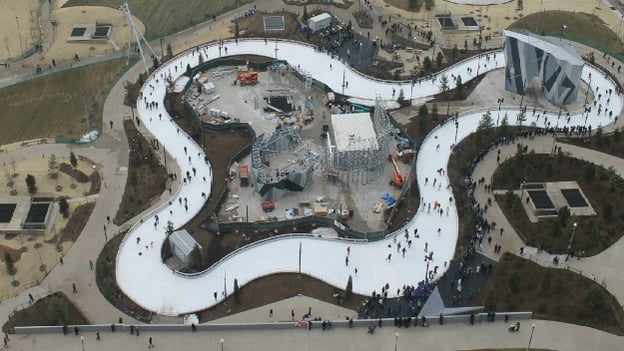 Photo credit: Chicago Park District
Last week, I was fortunate enough to spend Thanksgiving in Chicago with family and friends. Luckily, one of our many trips to Maggie Daley Park coincided with the skating ribbon's opening day. But what the heck is a skating ribbon? And why do we care? Turns out there are lots of reasons.
You're familiar with the average ice skating rink - a flat ice oval. They're fun, but going round and round the same oval can make one dizzy, if not bored. Leave it to Chicago to step it up a notch, building one of only three skating ribbons in the US. The Chicago Park District explains it best:
The skating ribbon is dramatically different from typical civic ice rinks, creating a multisensory activity that is integrated into the landscape. Skaters can experience "alpine in the city" as they lace up their ice skates and follow a path twice the length of a lap around a traditional skating rink.
As you can see in the photo above, the skating ribbon is something to behold. In fact, it's been named one of the world's 10 most architecturally beautiful ice skating rinks by Architectural Digest. As you can imagine, it's not all ice and Zambonis - some serious engineering went into the ribbon's design. And Composite Advantage is proud that they were part of the magic.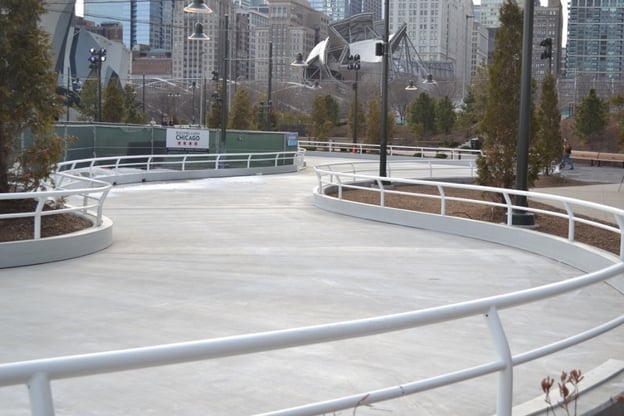 No ice yet - showing off Composite Advantage's fiberglass curbs.
The ribbon is concrete with ice cooling elements inside, and Composite Advantage manufactured the fiberglass curbs along its edge. The curbs:
Are 1 foot tall, 8 foot long and 3/8" thick
Are designed to bend along with the curvature of the ribbon
Are strong enough to withstand the impact of many ice skate blades (see the usual throng of skaters in the photo below)
Are molded with gray pigment through the laminate (not just on the surface) so surface scratches and dings go unnoticed.
Match the exact color of the railings for a smooth, polished look.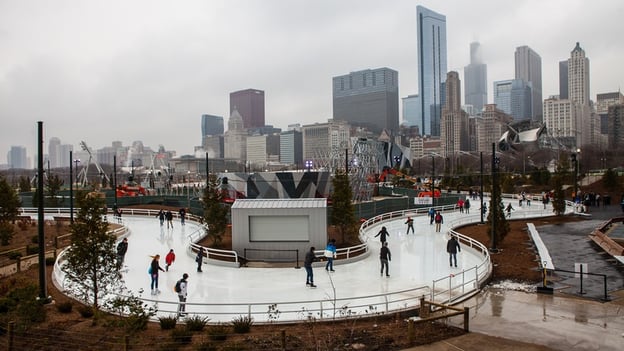 So, the next time you're in Chicago, be sure to check out the skating ribbon. There's no ice in summer but the climbing walls throughout the park are a delight for young and old. I for one can't wait to return to this amazing outdoor recreation area.