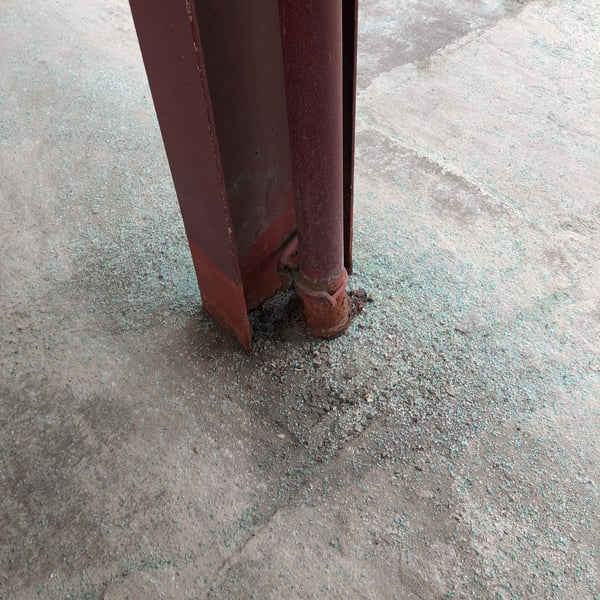 It's no secret that bridges freeze faster than roads. It's primarily because bridges are open underneath, causing them to lose heat from all sides. Salt and chemicals like chloride and acetate-based de-icers are routinely used to control slick surfaces. Demand for these and other chemical compounds have grown with the number of commuters.
Eco-friendly FRP VS. Salt and De-icing Chemicals
A Few Facts
According to U.S. Geological Survey data, the nation used about 164,000 tons of road salt in 1940. It broke 1 million tons in 1954, 10 million in 1985, and now averages more than 24 million tons a year.
De-icing practices disintegrate concrete and corrode steel, two materials commonly used in bridges and rail platforms. Biological scientist Rick Relyea, Rensselaer Polytechnic Institute near Albany, New York, is also concerned about the impact of road salt on the environment and drinking water.
A Low To No Maintenance Option
Creative Composites Group's Fiber Reinforced Polymer (FRP) decking for vehicle and pedestrian bridges and rail platforms is being adopted by bridge and railway owners in the Northeastern and Midwestern regions as a robust alternative to conventional materials. FRP is corrosion and chemical-resistant. It can withstand freezing and thawing cycles because FRP's structural properties are rated at -40 degrees Fahrenheit up to 160 degrees Fahrenheit. Quick installation without the need for heavy equipment is also an advantage in cold weather.
A Case Study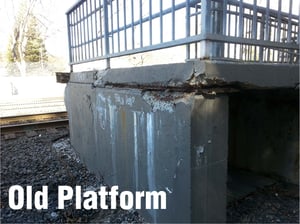 In 2015 Massachusetts Bay Transportation Authority had to close its North and South mini-high platforms at West Natick Station after its North Billerica Station rail platform collapsed due to concrete failure. Mini-high platforms provide ramps and level boarding for passengers with disabilities. MBTA chose FRP as an alternative to concrete which can deteriorate in as little as 15 years when exposed to ice, snow, salt and de-icing chemicals. FRP panels had attachment points for handrails that fit the same locations as the original railings. Panels bordering the tracks were engineered to accept special features like a hinged retractable edge able to accomodate trains of different widths. The FRP platforms [comprised of six panels each] were installed over two nights [eight hours each] on new concrete elevations and angles giving MBTA a composite solution with minimal maintenance costs and a life cycle of more than 75 years.
New Design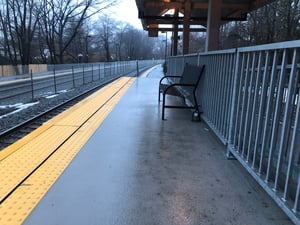 CCG continues to turn ideas into solutions. In 2022 a railway customer asked the composite manufacturer to create an FRP product that could eliminate exposure to de-icing chemicals by elevating steel attachments. CCG designed and produced an FRP pedestal that raises the carbon steel alloy members off the ground.
Need something that hasn't been made yet? Have an idea? Call us. Let us show you how we can put our skill sets to work for you.