What do restaurants, cruise vacations and the fashion industry have in common? They're all "going green" in 2015. What is "going green?" It's minimizing environmental impact, while remaining profitable. This has become an industry in its own right as more and more market segments get on the bandwagon. One example of green business is adapting an abandoned facility for a different use - like turning a former train station into a produce market.
I bet most of us think of the modern green movement as, well, modern. In fact, interest in green issues can be traced back as far as the 1840s.The Rails-to-Trails movement, a great example of repurposing obsolete items, started when someone had a light bulb moment: "We've got an abandoned railroad track, so let's use it."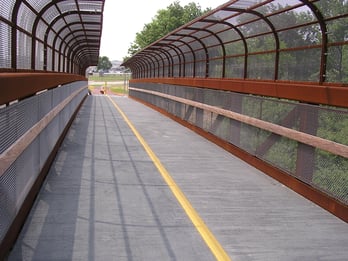 Today, Ohio boasts the largest network of paved bike trails in the United States. More than 333 miles of trails intersect Ohio's cities and rural areas. This year, 33 miles of trail traveling through Cuyahoga, Portage and Summit counties in northeast Ohio made the list of Best Biking and Walking Trails in North America.
As you can imagine, these trails require maintenance - lots of it - ranging from tree removal to stabilizing creek and river banks. Bridges and bridge decks constructed with traditional materials like timber, concrete and steel have maintenance issues of their own, especially in northern climates subject to water, salt and chemical corrosion and freezing temperatures.
A bridge system made with FRP (Fiber Reinforced Polymer) composite material has the ability to resist corrosion and chemicals, the strength to withstand extreme weather events and a surface that is immune to UV exposure. For local town councils and municipalities pinching pennies, that means zero maintenance. These lightweight composite panels are also easy to transport to work sites in remote areas, making the carbon footprint of these systems small compared to that of heavy traditional materials.
The composition of FRP material and its longevity qualifies it for an important place in today's green movement. Questions? Contact us today!