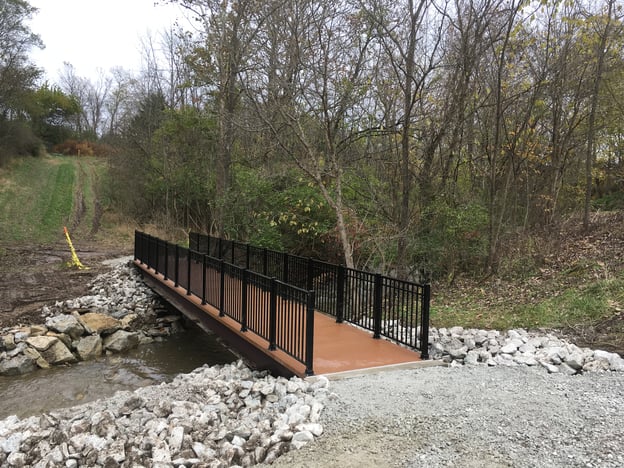 It's interesting how the same word can have different meanings. Take the word "trail" for example. According to Websters Dictionary, it could refer to "a mark, series of signs, or objects left behind by the passage of someone or something." The term can also mean a "beaten path through rough country like a forest or moor."
We're sticking with the latter definition for this blog because the paths crisscrossing the country have become a breeding ground for Fiber Reinforced Polymer (FRP) composite trail bridges. The need for a green, sustainable solution that can last nearly a century with little to no maintenance (and can be plugged into a trail with minimally invasive equipment) is growing.
The reason? More and more people are heading to the great outdoors. In 2017 Statista reported that the number of hikers and backpackers in the U.S. rose to 47.2 million.
On New Year's Day, state parks across the nation kicked off their First Day Hikes programs, which motivate people to get outside to exercise and connect with nature.
Last year, hikers logged more than 1,300 First Day Hikes, including a cave hike in Idaho's Craters of the Moon State Park and a snowshoe walk in Minnesota's Jay Cooke State Park. This year, hikes are being offered for the whole family, led by state park guides and volunteers with distance and activities varying from park to park.
You may not think often about the trail structures that are essential for trail passage. These projects typically are driven by user safety and environmental protection issues. Whether a structure must span wet areas, open water or a dry gulch, parks & recreation agencies are looking for bridge decks built of quality, long-lasting material and designed to harmonize with the surrounding environment.
In May 2017 President Donald Trump proposed a $2.55 billion Fiscal Year 2018 budget for the National Park Service (NPS). Though this is a nearly $300 million decrease from FY 2017, the FY 2018 budget includes some increases for priorities like deferred maintenance. These increases "include $33.3 million in programmatic increases for more construction, planning and deferred maintenance, $25.7 million across all activities for fixed costs, and $1.1 million for new responsibilities at existing parks."
To meet the special demands of park and recreation agencies, Composite Advantage is expanding its FiberSPAN-T brand by introducing a standard FRP trail bridge system. The new product - available in sizes 20 ft. to 50 ft.- reduces costs and lead time for customers. Bridges arrive on-site fully assembled so installation takes less than one day. The FRP structures meet the design requirements of the AASHTO Guide Specifications for the Design of Pedestrian Bridges.
Our team of engineers evaluated materials for their ability to resist corrosion from water, salt and chemicals. Because FiberSPAN-T bridges marry an FRP deck with weathered steel beams and aluminum railings, the systems do not require maintenance. These materials also help to optimize cost efficiencies and reduce the financial strain conventional products create with their need for maintenance and frequent replacement. The bridges also feature a non-slip surface for enhanced safety. The product's aesthetic look is complimented by earth tone deck colors.
Need a trail bridge to extend a park's reach into uncharted areas? Want a sustainable product that can replace a conventional structure? Try going green with a sustainable product that gets better with age.