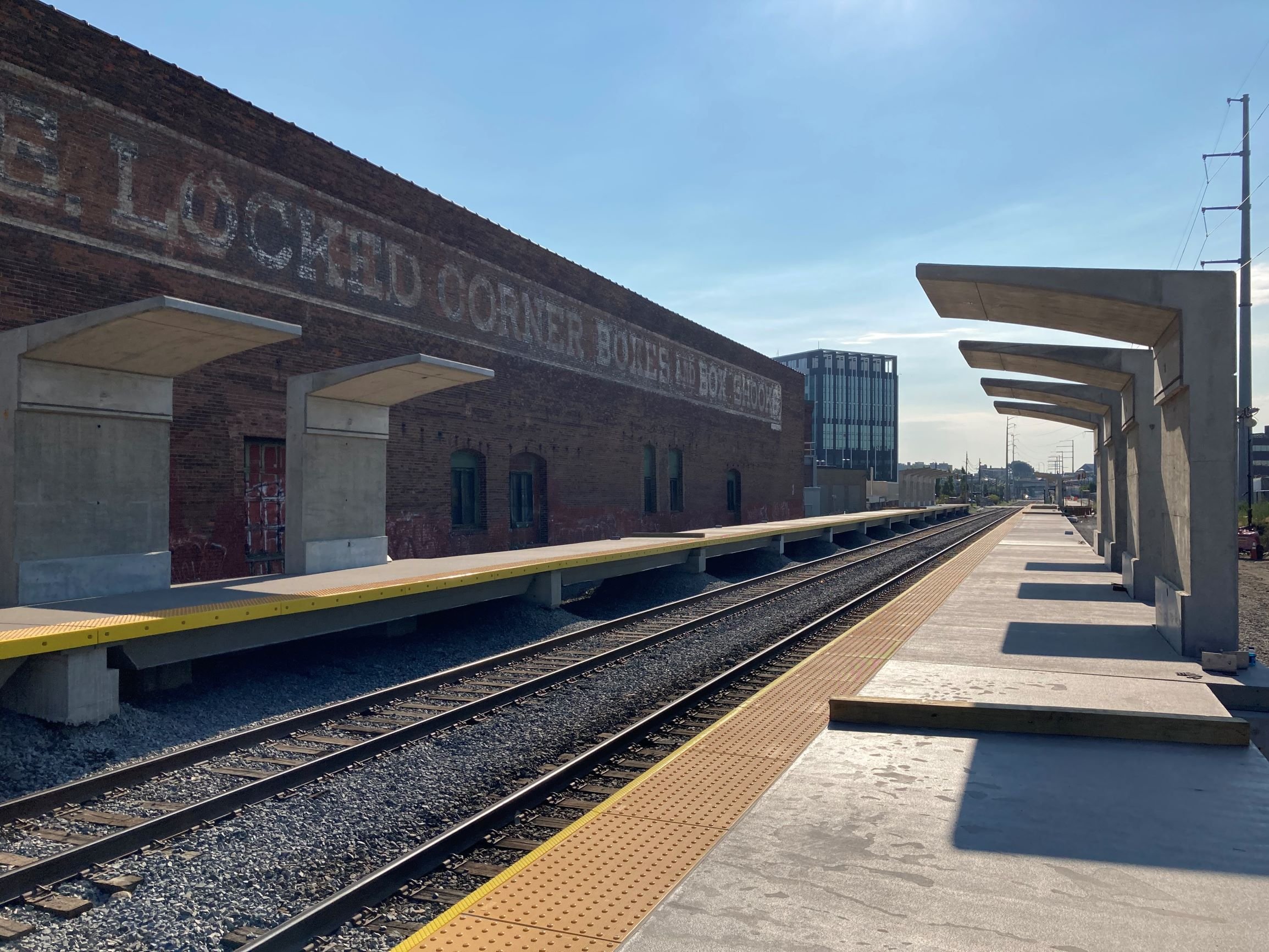 Last week we took you back to Chelsea, a city in Suffolk County, Massachusetts, that sits directly across from Boston's Mystic River. In 2019, we installed a fiber reinforced polymer (FRP) three level-switchback bridge at Chelsea's Bellingham Square Station. The structure eliminated a long walk for commuters by providing a direct pathway to the bus and rail station.
That same year we were also awarded a contract for platforms at the brand new Chelsea Rail Station located nearby. The original structure had fallen into disrepair and was inconvenient for passenger transfers between different modes of transportation. The station was also inaccessible to people with disabilities. The Massachusetts Bay Transportation Authority (MBT) invested $32 million to build a new station with single-level FRP 800-ft. long platforms on either side of the tracks. Design requirements also specified integration of shelters, lights, railings and other amenities.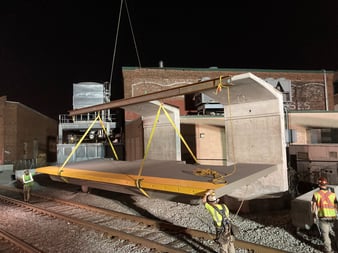 For rail platform applications, we design large, prefabricated FRP panels to eliminate the labor and assembly costs associated with joining together numerous small components or pouring concrete. In the case of Chelsea Rail Station, we employed our FRP Tee panel technology. This method allowed us to fabricate the deck and tee stiffener as one piece. The advantages of this approach provide superior corrosion resistance to adverse weather and deicing chemicals; high load-bearing capacity capable of withstanding heavy foot traffic; light weight [80 percent lighter than reinforced concrete]; reduced construction costs, design flexibility and adherence to fire resistance standards.
Design parameters for the Chelsea Rail Station included an unfactored uniform live load of 100 psf with a 300 lb. concentrated load; a vehicle maximum loading of an H-5 vehicle with an impact rating of 4,000 lb. wheel load and a wind uplift loading of 30 psf. Class 1 fire resistance was required per the National Fire Protection Association (NFPA) and the American Society for Testing and Materials (ASTM) standards and a temperature range of minus 40 degrees Fahrenheit up to 160 degrees Fahrenheit.
We use a special manufacturing process to mold our tee sections into the body of each panel to provide 100 percent composite action between the deck and the beam. In this case, the FRP Tee deck was supported by concrete piers with a maximum spacing requirement of 36 ft. Panels had a structural thickness of 6.375 in. [including 1/8 in. non-slip overlay] and 17-in. deep Tee stiffeners.
A total of 48 FRP Triple-Tee panels were produced in widths of 10 and 12 ft. and spans 32 ft. to 36 ft. long. A number of panels required cut-outs and bolt holes to accommodate railings, benches, shelters and other attributes. Bonded tactile warning panels were factory attached. Type 304 stainless steel plate for platform connections was embedded. Holes to receive rub rails and rail posts were factory drilled and tapped. A gray Matacryl polymer concrete overlay with quartz aggregate was applied to the platform surface.
Installation took place in August 2020 at night. FRP panels are especially suited to worksites with short windows and lack of real estate to unload and layout panels. Contractors only had a few hours each night to work. A crew of three workers was able to set each panel in approximately 20 to 30 minutes. Adjusting track side elevation took up most of that time. Once panels were set, a second crew anchored panels with stainless steel connection angles and bolts. Twelve-ft.-wide panels also had rub rails attached at the jobsite due to shipping constraints. Yellow UHMW-PE rub rails were factory installed on 10-ft.-wide panels. Installation was completed in under a week and a half.
Features like benches, shelters and lights are currently being constructed. Chelsea Rail Station is expected to be completed this fall. Digging into the details of this install gives you an idea of how this flexible technology supports complex design/builds. In addition to helping transportation agencies achieve project goals, we also act as a resource to help educate individuals who are new FRP, but tasked with overseeing these types of jobs. Next week we'll provide a map to help engineers and estimators get a handle on where to start when looking to use FRP.