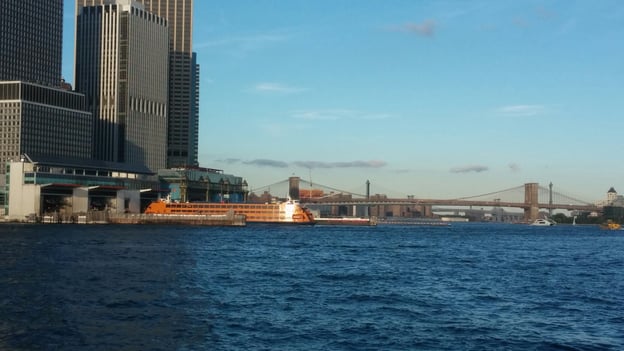 New York City is a special and unique place; just ask any tourist or resident. To a supplier of infrastructure products (like me), NYC is an interesting city. It's an island of people linked by bridges and ferries. Where there's a bridge, there's a bridge deck. And - where there's a ferry, there's a ferry terminal that needs guide walls. From that perspective, I'd like to share a few takeaways from my recent NYC visit.

I rode the Staten Island Ferry to understand more about the impact, damage and abuse these large ferries inflict on their wooden guide walls and fender systems. This helps us improve FRP systems for these applications. [A side note to anyone touring NYC: A ride on the Staten Island Ferry is free! You get great views of the Statue of Liberty leaving Battery Park and sailing south. After disembarking at Staten Island and quickly re-boarding, the return trip to Manhattan is all skyline.]
The NY-NJ area is learning to appreciate FRP infrastructure as agencies deal with the resiliency (or lack thereof) of infrastructure systems after Hurricane Sandy. One supplier provided FRP pilings for the reconstruction of the pier at Liberty Island. Additionally, using FRP utility poles is a smart way to harden the power grid.
My final observation involves the law of unintended consequences. After decades of much-needed attention, the Hudson River is much cleaner. Marine life is back, but here's a surprising consequence - this marine life speeds up the deterioration of wooden waterfront structures. FRP offers an environmentally-friendly solution. It's resistant to marine life, but does not leach any chemicals into the water.