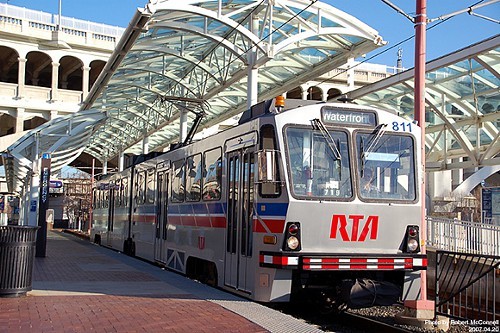 Ohio has only one city that boasts a rail-based transit system. The RTA Rapid Transit in Cleveland, known locally as The Rapid, sets an example for other cities to follow. In fact, in 2007 the American Public Transportation Association named the RTA "best public transit system in North America." Let's look at the history of this northern Ohio institution.
The railway began operations in 1955 as the Cleveland Transit System (CTS) with just two stops. Despite this, CTA transported 8 million riders in its first year. By 1968, CTS added multiple stops outside downtown Cleveland and expanded their service to include Cleveland Hopkins Airport. This made Cleveland the first city in the Western Hemisphere to offer rapid transit service to the local airport.
In 1975, CTS began receiving federal funds and changed their name to the Greater Cleveland Regional Transit Authority (known as the RTA). Fast forward to 2017: The RTA operates 18 rapid transit stations with 19,300 daily passengers. After the Cleveland Cavaliers won the NBA title, the RTA carried 500,000 passengers in one day (a record) for the team's championship parade in June 2016.
The RTA is in the midst of renovating many of their park-and-ride stations, ensuring a more enjoyable commute for thousands. Because of a recent uptick in passengers, the RTA has announced the construction of a new station on East 34th Street.
Even though they may be the only Ohio city with a rail-based transit option, Cleveland is showing other cities how systems like The Rapid become part of a city's fabric.