Earlier this month, I attended the Ohio Parks and Recreation Association (OPRA) conference and trade show. Despite the 10 inches of snow that fell in Sandusky, Ohio, OPRA2015 was a success, with many new exhibitors and attendees. I'm going to discuss a few things I learned and observed at this year's conference.
First of all, like I said, OPRA2015 had a huge turnout! This is just one indicator of the growing popularity of trails - more and more people want to get out and walk/run/hike. To make this happen, park districts are looking at new and innovative materials and bridge products that can easily fit within repurposed abandoned structures along new trails and/or provide safe access over streams, highways or railroads.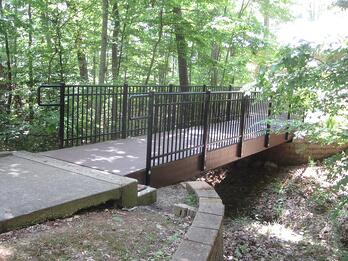 Secondly, most districts operate on tight budgets. Many attendees mentioned that balancing costs with environmentally-friendly materials is a big concern. For example, our fiberglass trail bridge and bridge deck booth generated interest because they're maintenance-free. The material resists corrosion when exposed to water, salt or chemicals. The composite product is prefabricated, a feature that attracted a lot of attention from park representatives who were looking for simple and quick installation options. Despite this, I noticed that park personnel tend to perceive these new technologies come with a higher price tag. Many of the people I spoke with were surprised to find that fiberglass bridges are actually cost competitive with traditional steel/concrete bridges. Talks were dominated by a desire for long-term benefits without a high upfront cost.
Third, I noted size trends, including a huge number of requests for 14-foot wide bridges. Did you know that Ohio DOT regulations require bridges to be wider than traditional 10-foot ground trails? The regulation adds two feet to each side of a trail, making it easier for bridges to accommodate both bicyclists and people who want to stop on the bridge to enjoy the scenery. Length-wise, bridges of 20 feet to 40 feet were popular. On a different note, I enjoyed speaking with one manager whose park includes a floating bridge. By the way, fiberglass composite's corrosion resistance and natural buoyancy made the product an intriguing option for him. It is an interesting design challenge that hopefully I will get to learn more about - it's certainly a unique project that does not come along every day.
For the two days of the show, I appreciated the interest and questions about using a newer material technology to help improve park use. The park personnel are passionate about their work and what they contribute to their communities.
To learn more about composites or FiberSPAN trail bridges, contact us now! And feel free to leave a comment below on your recent bridge product (or anything else)!