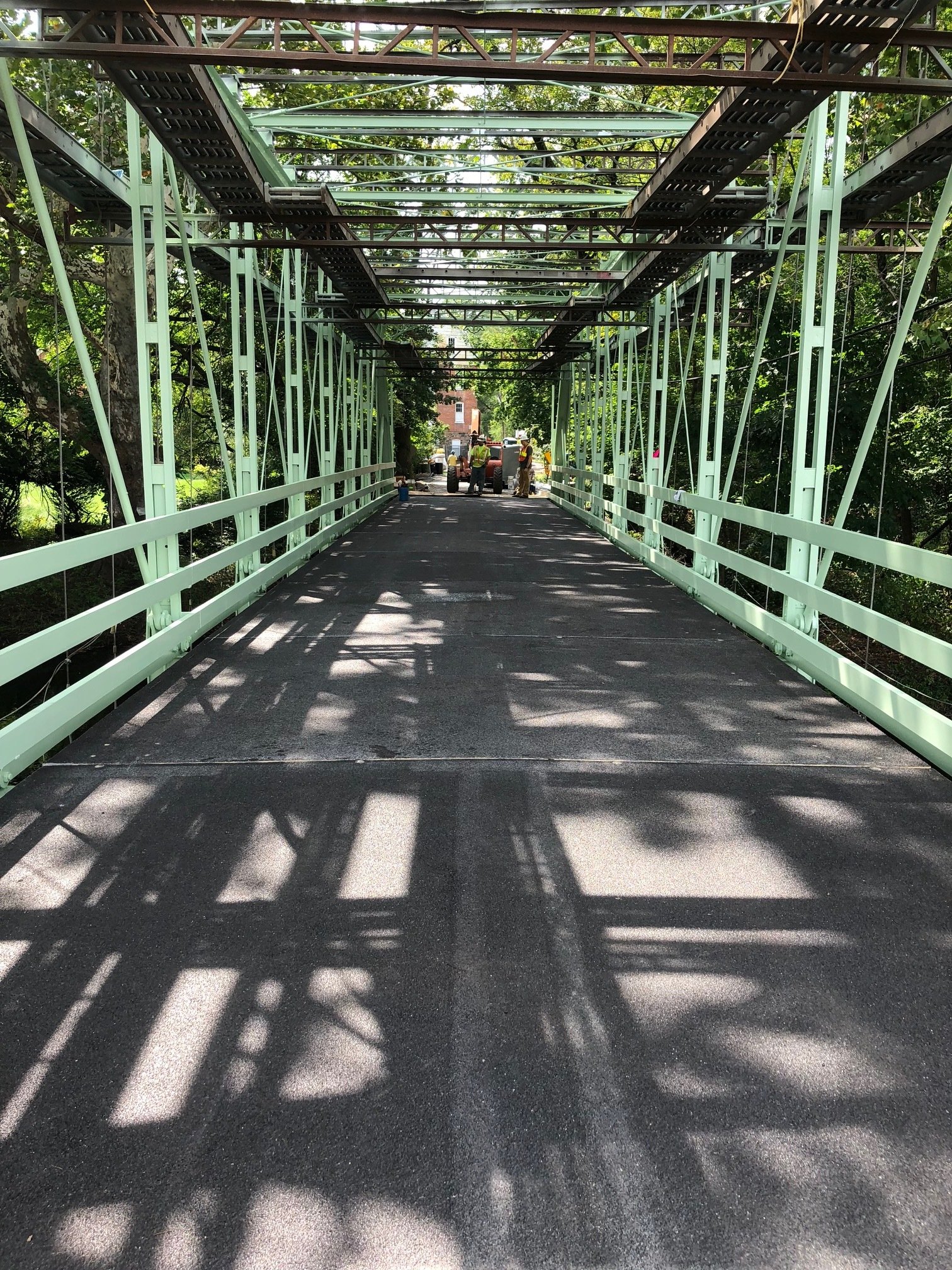 Dayton, Ohio has been called the cradle of creativity, a city of innovation. From the invention of flight and the advent of the self-starter which fueled the auto boom to the cash register, the city continues to nurture advances that benefit communities across the nation. In the bridge building arena, the Buckeye state has proved a lightning rod for the past and present.
Historic County Bridge 231 [or Peevy Road Bridge] in Montgomery County, Pennyslvania was built in 1880 by David Morrison's Columbia Bridge Works based in Dayton, Ohio. The single span, 102-ft. long Pratt thru truss bridge was constructed on concrete-capped stone abutments with flared wingwalls and crosses Perkiomen Creek.
The company's signature was its use of rolled beams over built-up beams. Built up beams were common during the 1800s due to the limited size and higher cost of rolled I-beams. Morrison's designs called for pairs of smaller rolled I-beams held together by square blocks placed between the pairs. Morrison's approach was prescient. Use of rolled beams in bridge work would become widespread in the infrastructure market decades later.
The Peevy Road Bridge also illustrates Morrison's thoughts about truss members and connections like the hollow cylinder verticals with packing blocks and flat bar chords.
In 2016 rusted steel led Castle Group to reach out to another Dayton, Ohio company, Composite Advantage, for a 21st century fix.
The bridge owner had a depth limit they required to match approach roads. The design flexibility of FRP allowed us to match grating depth, meet load requirements and provide a solid surface deck to protect the steel undergirding.
The bridge length was 100 ft., 4 in. FRP panels were 15 ft. wide by 11 ft. 1 in. long. Structural deck thickness varies from 5 in. to 6 3/8 in. The FRP vehicle deck was built with a flat bottom and a 1.5 percent crown. A dark brown 3/8-in. matacryl wear surface was applied to the deck panels. Deck connections consisted of 304 stainless steel clips. Panel to panel joints were ship lapped, bolted and bonded with MMA adhesive.
The FRP vehicle deck was built to meet AASHTO HS-20 vehicle plus impact loading with a 0.9 environmental durability factor; L/400 maximum deflection, a service load plus dead load with a bending strain/shear strain maximum of 20 percent and a dead load with bending strain/shear strain maximum of 10 percent. Panels were designed for a 100-degree Fahrenheit temperature variation and a minimum fatigue life of 2,000,000 cycles. The panels meet class 2 fire resistence per ASTM 3-84.
Peevy Road Bridge re-opened to traffic in September. FRP will protect the bridge's steel skeleton and extend the structure's life by another 100 years.