Québec City
Now that the weather is heating up, it's not too painful to revisit a cold week in February. My family spent an early spring break visiting Canada – Ottawa, Montreal and Québec City to be precise. That's right - when the rest of the Midwest goes south, we go north. While exploring, we noticed several noteworthy pedestrian bridges and walkways, and I'm here to share our observations.
First Up: Ottawa, Ontario
Composite Advantage is familiar with the national capital up north, as it's home to two of our vehicle bridge decks, Minto East and Minto Centre (which have fascinating histories - but that's another story). I may have driven over the Minto Bridges, but two pedestrian bridges caught my fancy.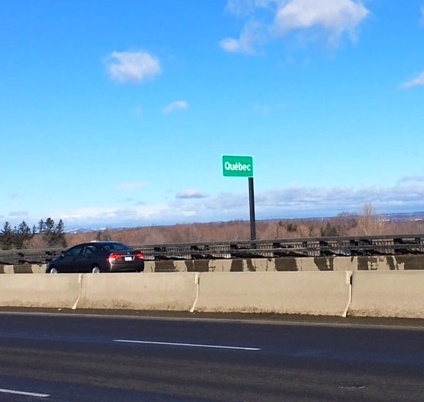 Our first pedestrian foray took us across Ottawa's Macdonald-Cartier Bridge. There's nothing fancy about this 618 meter steel girder truss bridge, but it efficiently and safely carries six lanes of vehicle traffic between Ottawa and Gatineau. Accordingly, the provincial border lies halfway across the bridge. It's not every day you can stand with one foot in Québec and one in Ontario. I wasn't sure whether to speak English or (very poor) French.
Vehicles aren't the only thing crossing the Macdonald-Cartier Bridge. A cantilevered pedestrian path lies on each side, allowing those on foot (or bicycle) plenty of space to cross the Ottawa River. Since the bridge is close to many paths and parks, these cantilevered lanes get plenty of use, my family among the wayfarers.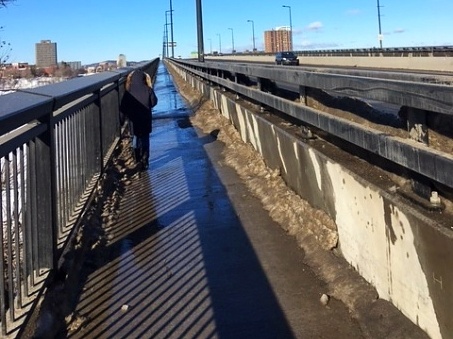 Macdonald-Cartier Bridge
As we walked from Ottawa to Gatineau, we noticed that the bridge, opened in 1965, seems to be holding up well, despite Canada's harsh weather extremes. The crossing offers a nice view of Ottawa's picturesque Parliament buildings and the famous Château Laurier hotel.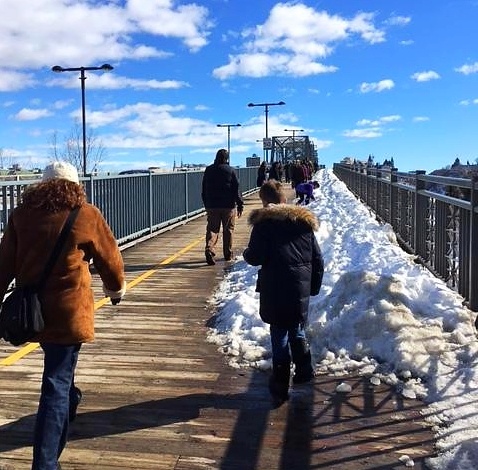 We switched it up a bit by returning to Ottawa via the Alexandra Bridge (left), a steel truss cantilever structure completed in 1900. Initially, the bridge was built to carry trains, trolleys and carriages, and it wasn't until 1950 that the bridge took on vehicles and pedestrians. The bridge is currently undergoing renovations, which is a good thing. The wooden pedestrian paths are well worn, and understandably so – they're constantly subjected to weather extremes, as you can see in the above photo. The bridge felt a little overloaded in February between the cars, pedestrians and banks of heavy snow. However, its view of Parliament Hill and the Château Laurier can't be beat – just be careful not to slip in winter.
Onward to Montreal.
The configuration you see below caught my eye as it offers a unique solution to the bike/pedestrian/automobile conundrum. As you can see, this crossing manages to accommodate everyone – even the trains passing overhead. All this concrete may not comprise the most beautiful corner of Montreal but it certainly is practical and safe – once you figure out where you're supposed to be walking/biking/driving. It's an interesting example of how urban areas are working hard to accommodate more pedestrian traffic.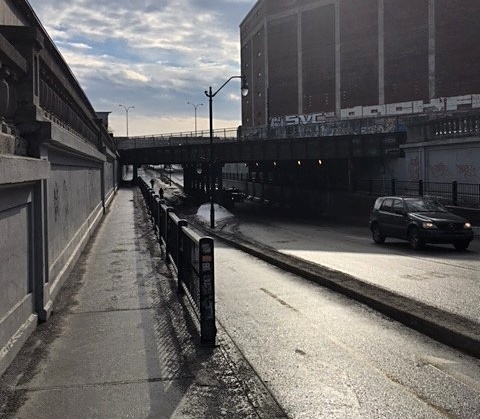 Pedestrian/bicycle/automobile/train crossing in Montreal.
Finally – Québec City.
Not necessarily a pedestrian bridge per se, the Dufferin Terrace, a wooden boardwalk outside the Château Frontenac, sees a massive amount of foot traffic throughout the year. The promenade overlooks Old Québec and the St. Lawrence River and is one of Québec's main tourist attractions. This holds true despite Québec City's very harsh winters. The photo below, of a craftsman dismantling an ice sculpture, shows the wooded planks covered by several inches of snow and ice.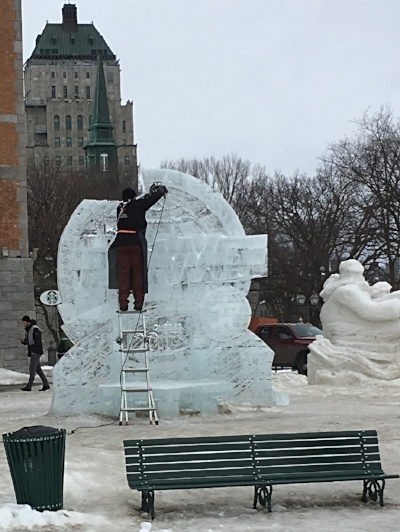 Our northern foray ended in Québec City, and on the long trip home, I couldn't help but think about the ways FRP would be a great fit for pedestrian bridges and paths like the ones we came across up north.
Here's why.
Aesthetics - FRP can be colored to match any adjacent surfaces. Brown FRP resembles wood – except that it never looks warped or worn out. Gray matches concrete, and more adventurous colors are available.
Wear Surface - A non-slip polymer aggregate is always included with FRP pedestrian bridge decks, offering a nonslip solution to those icy, wet days.
Drains, scuppers and accessories - These can all be easily crafted and added to the decks, in matching colors and styles.
Installation - Traffic during the Alexandra Bridge renovation has been a nightmare for residents. A lightweight FRP span can be dropped into place with little to no traffic interruptions, making it a good fit for urban areas like Ottawa.
If you'd like to find out more about FRP for pedestrian bridge decks, get in touch anytime.