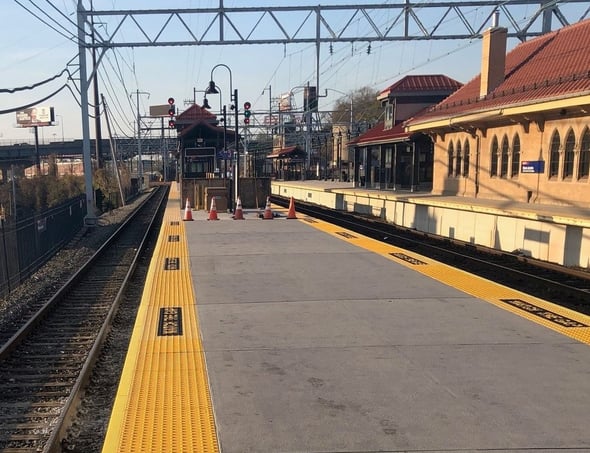 The Reading Railroad opened Wayne Junction in the 1800s. Today it is a multi-modal transfer point for six Southeastern Pennsylvania Transportation Authority (SEPTA) regional rail lines. The junction is also the hub for Philadelphia's Route 75 Trackless Trolley and bus lines for Routes 23 and 53. Approximately 321,000 commuters use the station annually. The busy intersection was recently declared a historic district by the Philadelphia Historical Commission.
Wayne Junction's current facility was built in 1900. So it was no surprise that the 121-year-old structure needed some TLC through renovation and updates like ADA accessibility. The work is part of a competitive grant that is also helping to transform the rail station and the surrounding area into a residential and creative district.
SEPTA spoke with suppliers and searched the Internet for information about corrosion resistant material. They reached out to us after reading about our fiber reinforced polymer (FRP) rail platforms. Nine concrete panels exhibiting the worst wear were demolished and FRP panels were dropped in place in a single night. In addition to minimal disruption to transportation schedules, the Wayne Junction project demonstrated the ease of installation. Instead of awarding the job to a general contractor, SEPTA installed the composite platform using its' own construction crew. The design for this project included a crowned surface, non-slip overlay, warning tactiles and wind shelters. The FRP section of this center platform measures 90 ft. long by 16 ft. wide.
SEPTA used the job as a test project to gauge the performance attributes of FRP for future projects. The capability to preserve a site's heritage while ensuring its function and performance with an advanced material is an important niche for FRP rail platforms. Over the past couple of years, the ability to quickly install these composite platforms at night with minimal equipment, along with corrosion resistance has expanded the reach of our platforms throughout the East coast from Boston and New York to Cleveland. With the conclusion of the Wayne Junction project, Philadelphia has now jumped on board the FRP [platform] train.