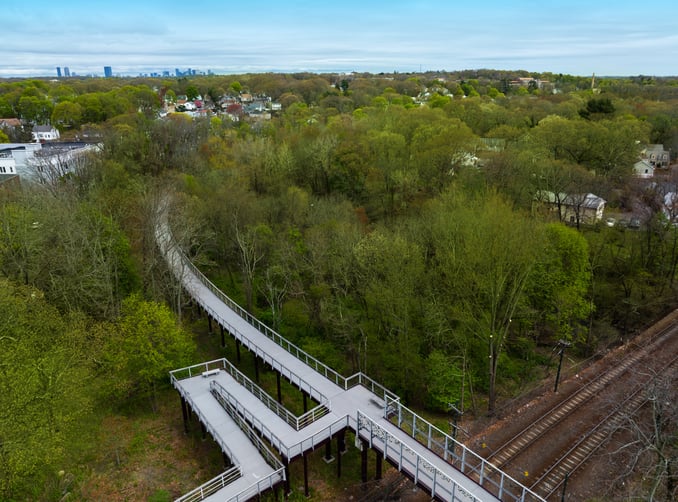 Last month I traveled up the East Coast to inspect 19 Fiber Reinforced Polymer (FRP) infrastructure projects that have been designed and fabricated by Creative Composites Group (CCG) over the past 10 years. As a supplier, our mission was to evaluate product durability and inspect structural details. The ability to spot visual issues and catalog concerns helps us understand where we need to improve our products.
First Stop - FRP Bridge Decks
Four of the locations we visited were FRP bridge decks. North Bank Pedestrian Bridge has been in use for a decade. Rocks Village FRP vehicle bridge deck is nine years old, Neponset Greenway Pedestrian Bridge's FRP deck is six years old and West Thames Pedestrian Bridge's composite deck is four years old. I was anxious to see firsthand how these products had weathered harsh environmental conditions, chemicals like road salt, and the wear and tear of daily traffic.

In each case, we found that our composite structures are performing well. When it comes to safety factors, strength, stiffness and deflection, our designs have always exceeded AASHTO bridge standards and procedures. The items that I heavily scrutinize during inspections are joints, overlay materials and seals. Testing and lessons learned over the past 20 years have helped us make significant improvements to joints and overlay materials. Our biggest area of focus continues to be the seals we place between panels to prevent water intrusion on substructures and help minimize maintenance for owners. We also collected information that will give customers a better understanding of FRP's advantages in the field and how it can be tailored to meet unique requirements.
In 2011 the Massachusetts Department of Transportation (DOT) sourced FRP for North Bank Pedestrian Bridge. The signature structure connects two parks along the North bank of Boston's Charles River. The FRP deck was designed with an S-shape to fit with existing structures and prefabricated with curbs and expansion joints. The 690-ft.-long composite bridge was installed in 2012 and has since been exposed to heavy use by pedestrians and bicyclists enjoying the connection in a busy urban location. Earlier inspections revealed that foot traffic was wearing away the original epoxy grit non-slip surface and starting to impact the fiberglass. This observation led us to adopt an innovative hybrid technology system. The non-slip overlay provides high performance, rapid cure, crack bridging and an easy-to-clean finish. The FRP bridge deck will be resurfaced with the polymer aggregate sometime during the next year.

Massachusetts DOT also chose FRP to rehabilitate Rocks Village Bridge, the oldest movable vehicle span in the state. Originally built in 1883 and rebuilt in 1914, the structure crosses the Merrimack River and connects West Newbury, Merrimac and Haverhill with several southern New Hampshire towns. When aging timber threatened the integrity of the six-span superstructure, FRP offered a lightweight solution that preserved exterior metalwork and retained the swing span's hand crank operation. The 18,776-sq.-ft. FRP vehicle bridge deck was installed in 2013.
On Deck: Onsite Inspections
Rocks Village is a good example of our capability to engineer and fabricate very large FRP structures that are robust enough to stand the test of time. In this case, FRP material was the only option for producing bridge decking that was lightweight and durable yet capable of maintaining the bridge's historical status. FRP provides a watertight solid surface and is resistant to corrosion, moisture and chemicals. After examining the bridge deck, we found it to be functioning optimally. Minor maintenance was needed for overlay cracking at the joints and connection holes.

Massachusetts Department of Conservation and Recreation sourced an FRP deck for the Neponset Greenway Pedestrian Bridge which was installed in Boston in 2016. The 1,060-ft.-long structure is a waterfront multi-use trail. During the inspection, we noted that joint seals at the two ends of the bridge span crossing the railroad tracks had pulled apart due to thermal contraction. Wider seals are more appropriate for those two joints. Panel-to-panel seals appeared in good condition, even where three or four panels meet. Insulative materials tend to have high electrical resistance and are difficult to ground. The static shock was experienced in the first year of operation, but not noticed during the inspection. Static charges remain a concern for bridge structures that cross electrified rail lines. Static dissipation additives for the overlay are currently being evaluated.

In Manhattan, New York Battery Park City Authority chose FRP for its West Thames Pedestrian Bridge project. The structure was installed in 2018 as part of the World Trade Center and was the first of its type in New York City. Outfitted with a glass roof, lighting, an elevator and a stairwell, West Thames provides access to two tunnels into Manhattan. FRP's light weight allowed the entire bridge to be pre-fabricated off-site for fast installation at night to minimize traffic disruption. The FRP deck experiences heavy foot traffic from business commuters, tourists, school children and those accessing the nearby dog park. The deck is performing well and the structural details look fine. But like concrete, the surface looks dirty from spilled food, drinks, and dogs.
Long-Term Improvements
As bridge owners and department of transportation agencies continue to struggle with the need to upgrade infrastructure while grappling with supply chain disruptions, labor shortages and inflation, FRP is proving its worth in terms of performance, low maintenance and quick installation.

The next few blogs in this series will look at the results of inspections we conducted of our FRP rail platforms, bridge fenders and waterfront sheet piling. In the final blog, we will share an FRP scorecard so you can look at how all our products are performing at a glance.