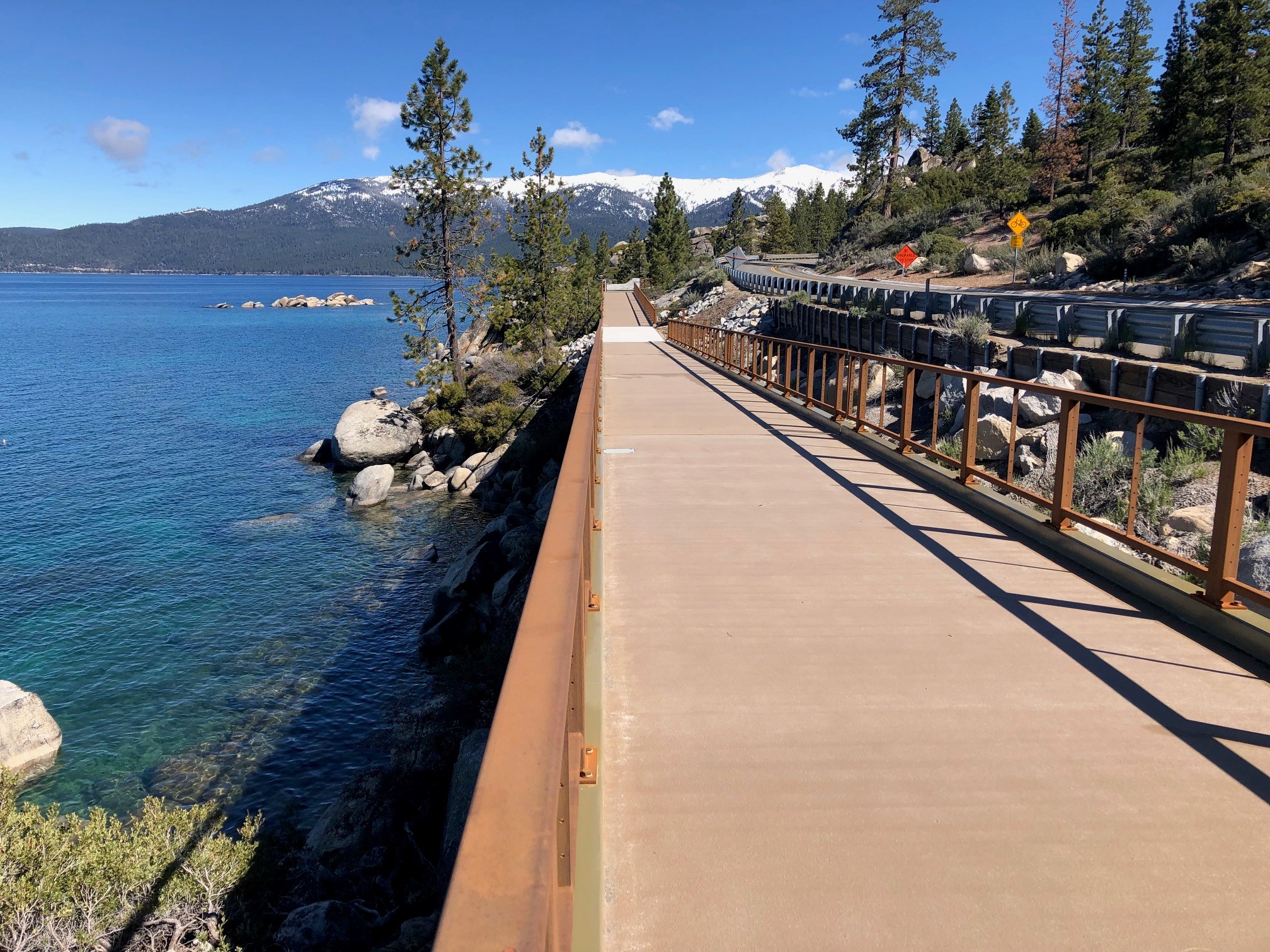 In the 2005 crime drama Numb3rs, a mathematician uses equations to help the F.B.I. solve crimes. While the TV series was fictional, people "do the math" every day from cooking to balancing a checking account and computing distance, time and travel costs for trips. Numbers can also tell stories about other things.
When miles of undeveloped, pristine, rocky shoreline prompted the Nevada Department of Transportation (NDOT) to create the State Route 28 Shared-Use Path project, the job pushed FRP's "numbers." The area's steep slopes called for a walkway made up of bridges versus conventional ground paths. Initially, the plan called for five bridges consisting of a varying number of 40-foot long spans. In our previous blog we talked about how we adapted our design to follow the moving path created by the installation of piles. In some cases, micropiles had to be relocated a few feet because of unyielding rocky conditions which meant some spans had to be resized for length and skew. Numbers for that blog focused on design equations that included loads, crushing strength, deflection and safety factors.
Before we look at what the numbers tell us about each bridge, let's take a moment to consider some basic figures:
Deck Width: 134 inches
Cross Slope: 1 percent
Railing Post Spacing: 6-foot minimum to 8-foot maximum
Deck Panel Weight: 9 psf
Span Weights: 26 psf (girders, FRP deck, railing)
Aesthetics were another important consideration so the FRP bridge decks were given a tan non-slip overlay with brown curbs to blend with their natural surroundings. The five bridges linked together —also some of the shared use path's most challenging components—offer some numbers that tell a clearer story about the project's size and scope.
Bridge Number One:
Number of Spans: 4
Length of All Spans: 159 feet
Length of Single Spans: 36 feet to 41 feet
Area: 1,785 square feet
Bridge Number Two:
Number of Spans: 3
Length of All Spans: 147 feet
Length of Single Spans: 48 feet
Area: 1,645 square feet
Bridge Number Three:
Number of Spans: 5
Length of All Spans: 250 feet
Length of Single Spans: 49 feet to 50 feet
Area: 2,801 square feet
Bridge Number Four:
Number of Span: 1
Length of Span: 65 feet
Area: 734 square feet
Bridge Number Five:
Number of Spans: 18
Length of All Spans: 813 feet
Length of Single Spans: between 44 feet to 47 feet
Area: 9,099 square feet
FRP's ability to accommodate a range of design variations, its' 100-year life cycle and its capacity for use in difficult terrain make it an attractive option for projects like SR 28.