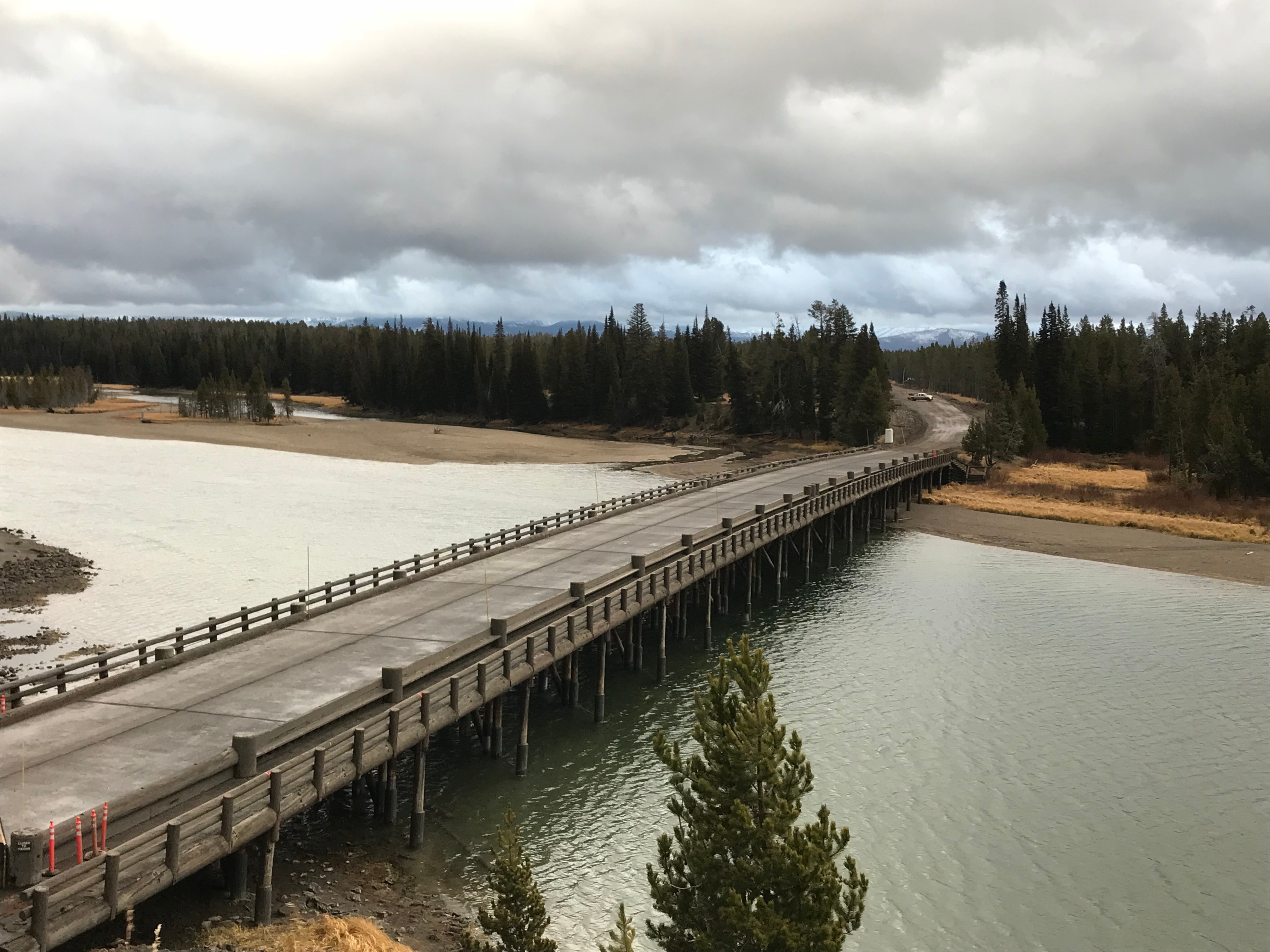 Yellowstone National Park's Fishing Bridge recently benefited from one of the key attributes of fiberglass reinforced polymer (FRP) decking: light weight. Reducing the dead load on bridge structures affords engineers more flexibility when designing structures, whether building a primary structure or an addition to an existing bridge, such as a cantilever sidewalk.
When it comes time to repair or replace a bridge surface, engineers must either work within the confines of the existing structure's tolerances while meeting vehicle load requirements or replace the structure altogether. FRP decking's light weight allows designers and engineers to preserve the historic bridge structures of our communities while updating the decking. Yellowstone National Park's historic Fishing Bridge is great example.
History
Yellowstone National Park was established in 1872, and within several years began to slowly develop into the park we know and love today. The outlet to Yellowstone Lake eventually gained popularity as a fishing destination. In 1902, the first bridge was designed and built by Hiram Chittenden. However, it wasn't until 1914 that the name "Fishing Bridge" was first used. 17 years after its original construction, the bridge suffered severe snow and ice damage, and was rebuilt in 1919. The area around fishing bridge slowly grew into a destination for park visitors, with shops, campsites, and a lunch counter. In 1937, the bridge was rebuilt for a third and final time and is the structure that stands today.
What's in a Name
Yellowstone River serves as an outlet from Yellowstone Lake and is a prime fishing destination. Since the Park's opening, the river was known as one of the best places to fish for Redthroat and Cutthroat trout. A campground was added near the bridge, drawing even more tourist traffic. As the number of guests and anglers increased, the fish population began to dwindle. In 1975, fishing was prohibited to help restore and preserve the ecosystem. Despite no longer being a fishing location, the bridge retained its name and remains a popular place to watch the fish and enjoy the surrounding landscape.
Present day
Fast forward to 2016, and the asphalt deck of the historic fishing bridge needed repair. Both the deteriorating foundation and asphalt deck were in need of repair or replacement. The campground has grown into a well-established RV park, with a visitor center, amphitheater, and trailside museum. To preserve the historic landmark, the National Park Service and the FHWA chose to install a new FRP deck onto the bridge. The installation was completed in October 2018. The deck has an expected service life of 75 years with little or no maintenance, which will save the park money for years to come, allowing families and tourists to continue using the bridge and making memories for many years to come.