With Halloween just a day away, stores are full of people buying bags of candy for trick- or-treating, poring over last minute costume choices and picking out pumpkins to carve. It's also the time of year when classic films like Alfred Hitchcock's Vertigo grace television screens. In the 1958 nail biter, we are witnesses to San Francisco detective John "Scottie" Ferguson's [played by James Stewart] daring pursuit of a suspect across the city's rooftops. Losing his footing on a steep pitched roof, Scottie hangs from a rain gutter several stories above the ground. A policeman tries to grab his hand but falls to his death. The event triggers a case of acrophobia [fear of heights] and vertigo, the inability to look down from high places without being paralyzed by dizziness.
But you don't have to fall from a rooftop to experience vertigo. Over the last decade glass-floored viewing platforms, skywalks and pedestrian bridges have flourished nourished by the appetite of thrill-seeking visitors. Indeed, articles posted on PubMed—a site with more than 30 million citations for biomedical literature from MEDLINE, life science journals and online books—explore the concept of vertigo and its significance for "contemporary architecture, in particular the rise of elevated glass platforms."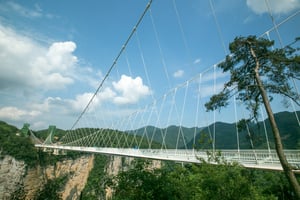 Some argue that part of the attraction for glass bridges is that it gives pedestrians a new way to experience scenery. In August 2019 a travel writer listed the top five most terrifying glass bridges in the world. The longest [460 meters], highest glass bridge is Zhangjiajie Grand Canyon bridge which has many visitors crawling across on their hands and knees 300 meters above the canyon floor. Three other such feats of architecture can be found in different parts of China but one U.S. bridge made it in the top five. The Grand Canyon Skywalk "floats" 290 meters above ground and offers a view of the national park's unparalled sights. Glacier Skywalk is a circular walkway that hangs suspended 270 meters above the Sunwapta valley in the Canadian Rockies.
Gatlinburg, Tennessee's new SkyBridge took the honor of the longest pedestrian suspension bridge in the U.S. when it opened in May 2019. It stretches 680 ft. across a valley in the Great Smoky Mountains. At the center of the bridge, glass panels allow visitors to see 140 ft. straight down.
But you don't have to step foot on a see-through skybridge or pedestrian span to feel that sudden drop in your stomach. Architecture is raising the bar in other ways. A glass-bottom swimming pool suspended 40 floors above city streets in Houston, Texas' Market Square Tower invites you to dive in head first. How about a glass-bottomed bathroom in Guadalajara, Mexico. It's located on top of a fifteen-story elevator shaft.
If Halloween frights in a haunted house, terror corn maze or scream park aren't enough to get your adrenaline pumping then you might want to consider adding one of these tourist attractions to your next trip itinerary.