Enduro to add to Creative Composite Group's suite of manufacturing capabilities and geographic reach

ALUM BANK, Pennsylvania – Creative Composites Group (CCG), the leading manufacturer of Fiber Reinforced Polymer (FRP) composites, has announced that the group has acquired Enduro Composites, a leading manufacturer of FRP products since 1954 based in Houston, Texas.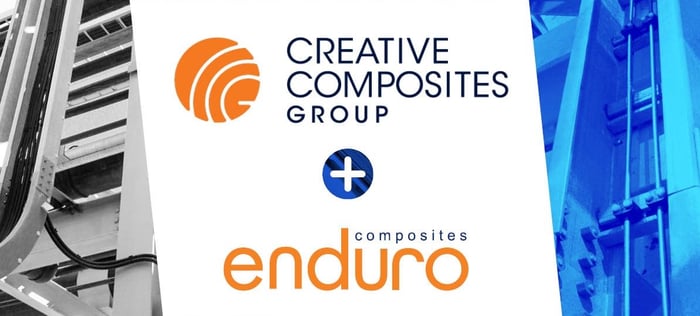 As one of the largest suppliers of FRP products in the U.S., Enduro's manufacturing is one of the most diversified in the industry. The array of manufacturing techniques utilized by Enduro provides added efficiencies to our integrated manufacturing approach – allowing projects to move quicker and schedules to be more flexible.

"We are excited to merge the expertise of Enduro with Creative Composites Group's roster of capabilities," says Shane Weyant, CEO for Creative Composites Group. "CCG prides itself in being an integrated engineering and manufacturing group that companies are looking for to meet their unique needs for structural composites. We are often relied upon to manufacture materials quickly, which we also pair with the ability to produce products that are both strong and innovative. Enduro joins us with a complementary product offering and high manufacturing standards–which is even more of a reason why this partnership is a good fit."

Enduro's capabilities will complement CCG's existing offerings by enabling the company to expand geographically and offer manufacturing support in the Western and Southwestern U.S. Enduro's offerings will also enable CCG to further diversify its existing portfolio by adding products such as building panels, cable management systems and water/wastewater industry products.

"I would like to thank Enduro's employees, customers and shareholders for their support in growing Enduro into a premier FRP composites manufacturer and supplier," says Tim Broussard, CEO for Enduro. "We look forward to joining CCG and collaborating to expand the composites industry as the preferred material of choice."

Enduro will also complement CCG's field service capabilities which provide installation, repair and aftermarket support. These capabilities will now be part of CCG's offering in the Western and Southwestern U.S. as a result of the acquisition.

For more information on Creative Composites Group's products, visit CreativeCompositesGroup.com

ABOUT CREATIVE COMPOSITES GROUP
Creative Composites Group (CCG) supplies innovative Fiber Reinforced Polymer (FRP) products for major infrastructure markets. CCG has the design-build and structural fabrication expertise to provide engineered systems and OEM solutions. CCG's combined team of engineers and technicians have been developing lightweight, durable, cost-effective FRP products for structurally demanding applications and corrosive environments for more than 50 years. Many of these products have paved the way for first-time use of engineered FRP composites for demanding infrastructure markets including: utility, rail, bridges and waterfront applications because of FRP's high-performance attributes. CCG is owned by Hill & Smith Holdings.