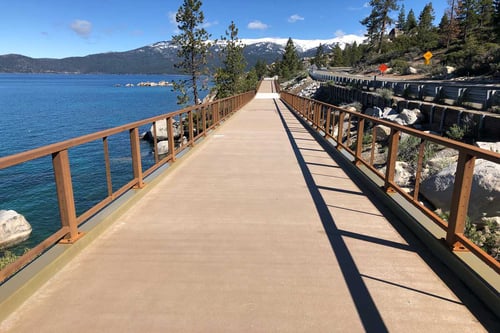 Bridge Walkways Providing Shared Use Paths
FiberSPAN makes wider, modern walkways possible with minimal effect on vehicle bridges. Our lightweight, fiber reinforced polymer (FRP) composite cantilever sidewalk system can be extended off of a vehicle bridge.
Design Options
FRP decking can attach to floor beams, stringers, or piers
Railing attaches directly to decking
Available in any width
FRP panels are 80 percent lighter than reinforced concrete panels. Prefabrication makes construction quicker and installation costs lower. FiberSPAN is resistant to chemical and water corrosion, which means zero maintenance on a structure that will last 75-100 years. These features make FiberSPAN an ideal, cost-effective replacement for existing concrete sidewalks or new bicycle/pedestrian walkways.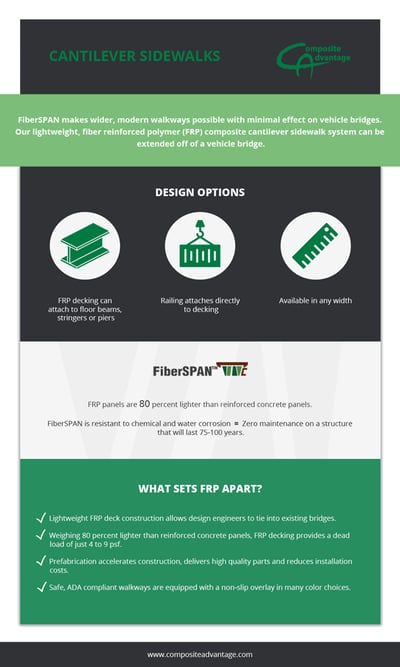 What Sets FRP Apart?
Lightweight FRP deck construction allows design engineers to tie into existing bridges with minimal increase in structural load.
Weighing 80 percent lighter than reinforced concrete panels, FRP decking provides a dead load of just 4 to 9 psf. The engineered FiberSPAN system consists of stringers, deck, and railing that weigh as little as 13 psf
Prefabrication accelerates construction, delivers high-quality parts, and reduces installation costs.
Safe, ADA compliant walkways are equipped with a non-slip overlay in many color choices.