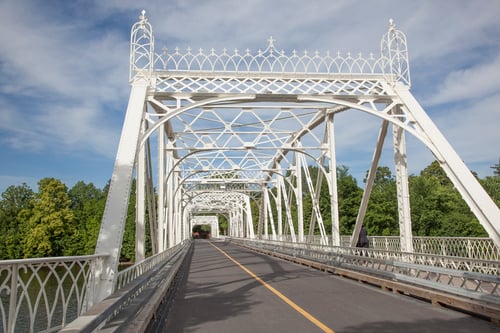 Every bridge features a deck, the actual surface on which traffic runs. The deck's material and structure vary based on the bridge's purpose. FRP decking for vehicle bridges provides high strength to withstand the heavy truck loads and lightweight for fast installation and specialty applications.
As transportation has evolved over the centuries, bridge builders develop new structural solutions and implement alternatives to better meet the needs of contemporary commuters. At the Creative Composites Group, we're committed to supplying the latest innovations in bridge construction to contribute to accelerated bridge construction methods and reduced life cycle costs.
FRP Decking
While the best bridge for your project largely depends on your community's needs, we believe that FRP decks are the most effective long term solution for today's bridges. Designed with simplicity and durability in mind, our FRP vehicle bridge systems feature prefabricated fiberglass panels that are 80% lighter than concrete. Because of their high strength, they are well-suited to nearly any type of traffic. At weights less than 26 pounds per square foot, the FRP deck is the perfect match for movable bridges. The solid surface protects superstructures and mechanisms from chemicals and water.
We offer two types of vehicle decking. For basic constant cross-section decks, the pultruded SUPERDeck system can be used. Profiles are bonded together into the appropriate panel sizes.
For complex, prefabricated bridge elements full of features like crowns, curbs, drains and attachment points, the molded FiberSPAN decking offers maximum design flexibility.
All decking has a polymer aggregate non-slip overlay that handles snow plows. Quick installation minimizes traffic delays. Its long-term savings make it the most cost-effective solution available today. With an expected lifespan of 100 years, it requires much less maintenance than most concrete and metal bridges.
Types of Bridge Deck Systems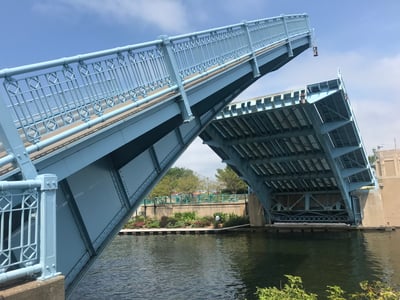 Timber Deck Systems. Timber is among the oldest materials used to fabricate bridge decks. A timber deck consists of a series of rough-cut beams placed on wooden, iron, or steel frames. Today, timber decks are mostly used in pedestrian bridges and a handful of car and rail bridges in low traffic areas. Since wood inevitably decays over time and can be further damaged by heat and humidity, maintenance on this type of bridge decks can be expensive.
Cast in Place (CIP) Concrete Decks. CIP decks are the most common type seen in the United States. As the name suggests, the concrete used in the deck is cast on-site in the bridge's final position. The concrete can be poured over steel rebar for additional reinforcement. While its upfront costs are relatively low, it usually requires significant maintenance throughout its working life
Precast Concrete Deck Systems. Unlike CIP decks, precast concrete decks are made with concrete slabs that are cast elsewhere and delivered to the site of the bridge for construction. Each segment is about 8 to 12 ft long. Precast decks are usually made of pre-stressed concrete to minimize the risk of damage during transportation.
Metal Deck Systems. Metal grid decks are typically used on movable or long span bridges to capitalize on their economic and structural benefits. It can be combined with concrete in part or in full to reduce the noise generated by passing traffic, increase its durability, and simplify drainage.
Steel Orthotropic Decks. Steel orthotropic decks consist of a flat, thin steel plate that's reinforced with a series of longitudinal ribs that are perpendicular to the intermediate floor beams supporting the bridge deck. They're commonly used in Europe, Asia, and South America.
Aluminum Orthotropic Decks. Aluminum orthotropic decks are similar to their steel counterparts, but aluminum offers greater resistance to corrosion and less maintenance. However, their high cost makes them unpalatable to many contractors.
FRP Deck Systems. The latest deck system, FRP decks are manufactured with fiberglass reinforced polymer. Strong yet lightweight, these decks work particularly well on movable bridges and short to medium span bridges.
Lightweight - Long Lasting - Low Maintenance
Our FiberSPAN vehicle FRP bridge decks are especially suited for movable bridges and historic steel truss bridge projects that require lightweight material. Prefabricated decks include crowns, cross-slope, skews, curbs, drain scuppers, non-slip overlay, and railing attachments. Quick installation minimizes traffic delays.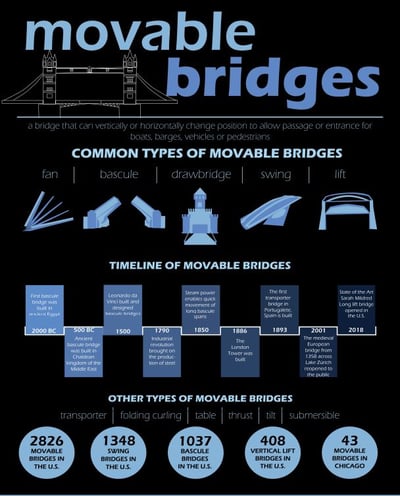 Standard Features:
Engineered for high-strength
80 percent lighter than concrete
Corrosion resistant
100-year life cycle
Bridge building is a complex science, but the experts at the Creative Composites Group have the experience and expertise needed to develop a cutting-edge solution for any contractor or department of transportation. To learn more about FRP vehicle bridge systems, contact us today.