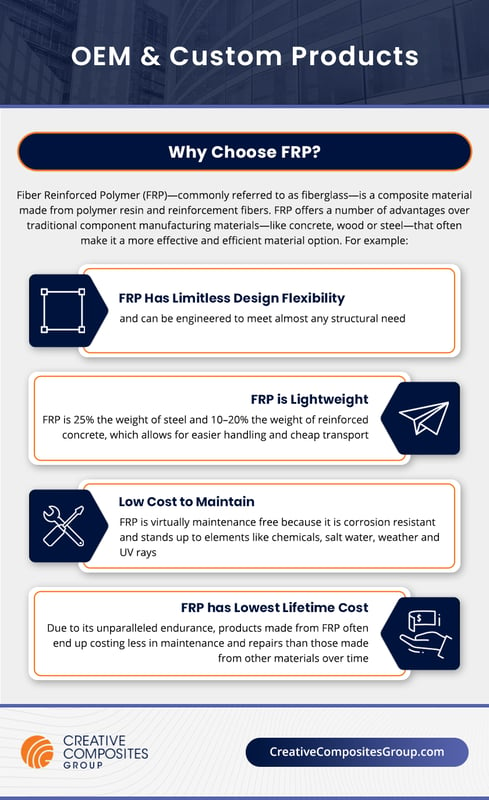 Custom molding can have many meanings; and at the Creative Composites Group, we define it based on the parts and our business relationships tend to fall into two categories. Standard FRP structural shapes such as angles, channels and beams and products like our FRP bridge systems, waterfront infrastructure and rail applications (to name a few) comprise one group and can be easily found on our website. The other group is reserved for custom products we make that are not on our website because these projects are proprietary to our customers.
Most of our customers are experts when it comes to their systems, solutions, and services and then they take advantage of our Design-Build expertise to supply the detailed part that makes their systems superb. We provide a wide range of composite manufacturing processes and the know-how to help customers match the right process with the right part. It has been our experience that companies find the most value in our capability to both design and build the parts they need. With just a concept and performance requirements, we can design a part that works for the customer.
The typical approach includes concept, design, prototype, testing, initial production run, and long-term production. In some instances, the customer owns the tooling and the design; sometimes the manufacturer does. It depends on the business arrangement that works best for both parties. The more complicated the part and the tougher the requirements, the more value we deliver. We have supplied custom parts to 100 feet and up to 30,000 pounds in weight. Quantities include short runs and high-volume jobs and pretty much anything in between. For very large parts in small to medium quantities, the vacuum infusion process is the most economical.
Our open molding expertise enables us to build corrosion-resistant components for many challenging applications in multiple industries. We design optimum solutions using all methods of open contact molding, including hand lay-up and filament winding. We filament wind cylindrical shapes for small to large quantities as well as hand layup for a diverse range of shapes and sizes in small to medium quantities. Pultrusion is ideally suited for high volume production of constant cross-section, continuous parts.
We are strategically positioned to serve our customers by offering complete engineering and design capabilities, including CAD drawings generated in AutoCAD and Solid Works, and Finite Element Analysis assessment. We bring both standard items as well as "one-off" specially molded fabrications from the design phase, through the manufacturing phase, to the final on-site installation at the customer's facility. Our personnel is intimately familiar with the latest industry standards and the current corrosion studies so that they can expertly advise our customers on the proper solution to their problem even if that means using a different material supplied by a different company.
For companies that are interested in the benefits of FRP composites such as lightweight, corrosion resistance, long life, non-conductivity, and design flexibility in a custom(er) specific molded part, it is important to work with a supplier that has advanced materials design and manufacturing experience. Contact us today. We would love to talk with you about how we can custom mold products that will make your system successful.