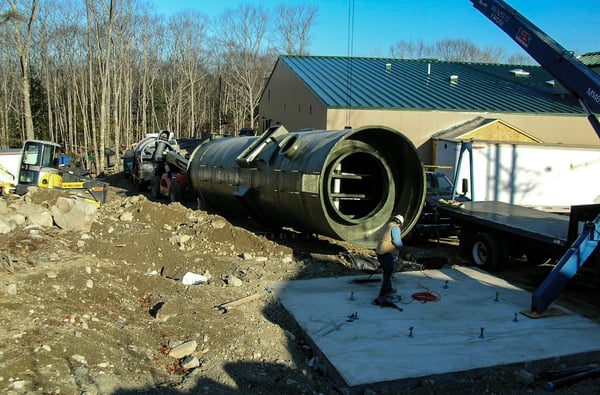 FRP Scrubbers and Absorbers
Much like our manufacturing of tanks, towers and stacks, we offer fabrication and installation services for FRP scrubbers and absorbers. Our ability to customize the laminate on a case-by-case basis means that each customer receives the vessel best suited for their specific application. Our engineers design per the relevant ASTM and ASME RTP-1 standards and are particularly skilled at coordinating site installations. We work with many major scrubber and absorber designers to build their products to exacting standards to meet your requirements.
Filement Wound FRP Chemical Scrubber Systems & Odor Control
We can design the laminate to deal with difficult chemical compositions, high temperatures, and pressures for chemical scrubber systems. Abrasive environments such as FGD's using limestone slurry are not a problem for our acrylic bonding resin (ABR) linings. We utilize silicon carbide and aluminum oxide suspended in the corrosion barrier resin. Header systems with spray nozzles are not a problem.
The filament wound, FRP scrubbers, and absorbers can be as large as 10'0, while hand lay-up can exceed 24'0. Our company has experience in a variety of industries, including pulp and paper, power and semiconductor.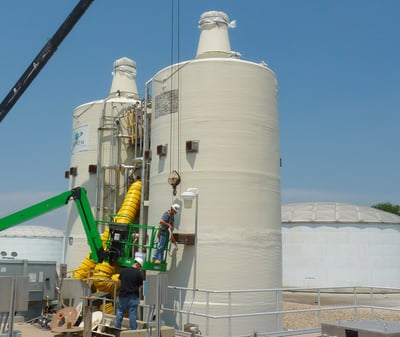 Customized FRP Pollution Control Equipment
Not only can we build you a brand-new piece of FRP equipment, but we can travel to your facility. By doing so, we completely refurbish or rebuild your existing equipment in place to minimize the impact of the operation. We have the necessary knowledge and experience to replace the packing supports and grating on the vessel. Additionally, we will perform the structural repairs required. Once the structural integrity is dealt with, we can install a corrosion barrier identical to OEM. However, if that is not an option, we will modify based on engineering design changes needed for the process.
The special considerations we take with laminate and resin selections, fabrication of components, and the installation of our products ensure a long, worry-free lifecycle and maximize uptime in your facility.