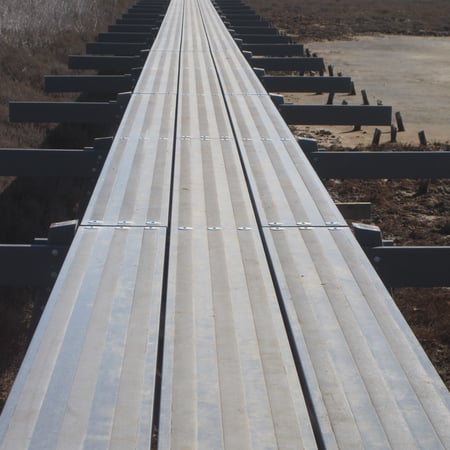 FRP planking is designed to replace timber, steel, concrete, and plastic decking when safety, anti-slip, ADA compliance, corrosion resistance, lightweight, fire retardancy, and speed of installation attributes are at the top of your wish list. Ideal applications include pedestrian bridges, access structures, boardwalks, covers, and platforms.
Our planking is designed to replace traditional decking, while greatly reducing life cycle costs through longer service life and minimal maintenance. We offer different types of planking to fit most access applications with typical loading requirements including pedestrian foot traffic, ATV, and maintenance vehicle loadings.
This list shows profiles commonly used for access structures and covers. The list includes planking with increasing levels of structural properties and stiffness. Reach out to one of our sales representatives to help find your perfect profile.